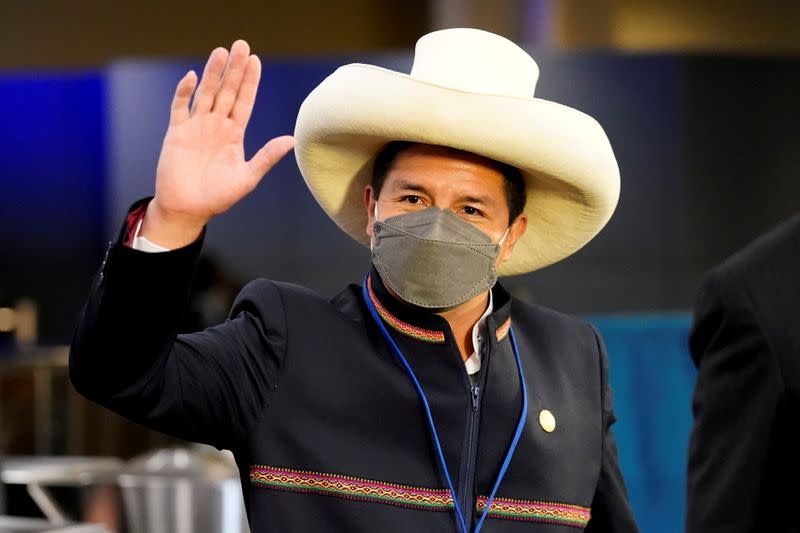 pedro castillo
Peru: Prosecutors move to probe President Pedro Castillo
Peru
On Thursday, Peruvian prosecutors announced to question socialist President Pedro Castillo over the promotion of a few military officers.
The announcement adds to pressure on Castillo as lawmakers gear up for initiating an impeachment process against him.
Prosecutors will probe Castillo on Dec. 14.
According to media reports, two ex-military heads said they were ousted from their offices after refusing to promote a few officials recommended by Castillo.
Castillo is facing the weakest time of his presidency, which began four months ago, with a threat of impeachment looming and a low approval rating of 25%.
Last week, Opposition legislators in Peru's Congress presented a motion to impeach Castillo. The party of Keiko Fujimori supported the move on Thursday. It had the signatures of 28 legislators. Congress is set to vote next week on starting the formal impeachment process. The procedure needs a simple majority to proceed. A final vote to oust Castillo would require 87 votes.
Related Posts
It merits mentioning that last week, prosecutors raided the government palace where Castillo's office is situated. They said they found $20,000 in cash allegedly belonging to a senior advisor. Later, Castillo fired the advisor, saying the administration was committed to fighting corruption.
Castillo allegedly held several meetings at his residence on Sunday but refrained from disclosing them in his public agenda. The Peruvian President denied any wrongdoing, saying the discussions were personal.
Castillo was elected by a razor-thin margin earlier this year and held a minority of seats in Congress. His presidency has spooked investors and markets, with the local currency falling to record lows.
A few days back, Peruvian Defense Minister Walter Ayala resigned after he accused the government of interference in the military, weakening the President after his interior minister was ousted.
Ayala said that he had submitted an irrevocable resignation.