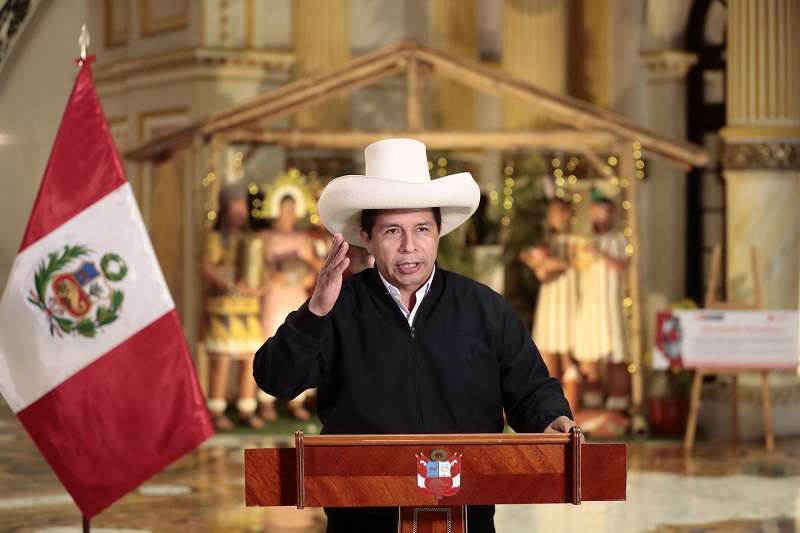 perus castillo sacks pm announces to reshuffle cabinet
Peru's Castillo sacks PM, announces to reshuffle Cabinet
Peru's President Pedro Castillo has sacked his Prime Minister, Hector Valer Pinto, just days after appointing him. The latter has been under accusations of domestic violence.
This is Pedro Castillo's third cabinet reshuffle in six months of holding power.
The Peruvian President said Friday that he would reshuffle his Cabinet, as his pick for Prime Minister was condemned over allegations of beating his daughter and late wife.
"I have decided to restructure my cabinet," Castillo said in a televised address.
His address to the nation came after leaders in Congress refused to hold a vote of confidence on the Cabinet that he named on Tuesday. The opposition and other cabinet members were against Pinto's presence in the government.
In a recorded message, Castillo said his reshuffled Cabinet would comprise voices from a diverse amalgam of political sectors. However, the President did not set a timeline for a new list of ministers.
Related Posts
Castillo, a member of a Marxist-Leninist party, is a former teacher raised in an Andean village. Over the course of time, political commentators have observed that his presidency has moved to the right.
His latest Cabinet would need confirmation through a Congressional vote as per media reports.
Castillo said it was important to stand up for the rights of women and oppose violence against them.
Pinto came under a hefty public backlash after media reported that his wife and daughter had accused him twice of domestic violence in 2016. Pinto denied beating his daughter and late wife, saying he was never convicted.
He had announced to stay in his job unless Congress stamped a no-confidence vote against him. It is pertinent to state that Peru's Prime Minister is an influential political figure as he is the chief adviser to the President.