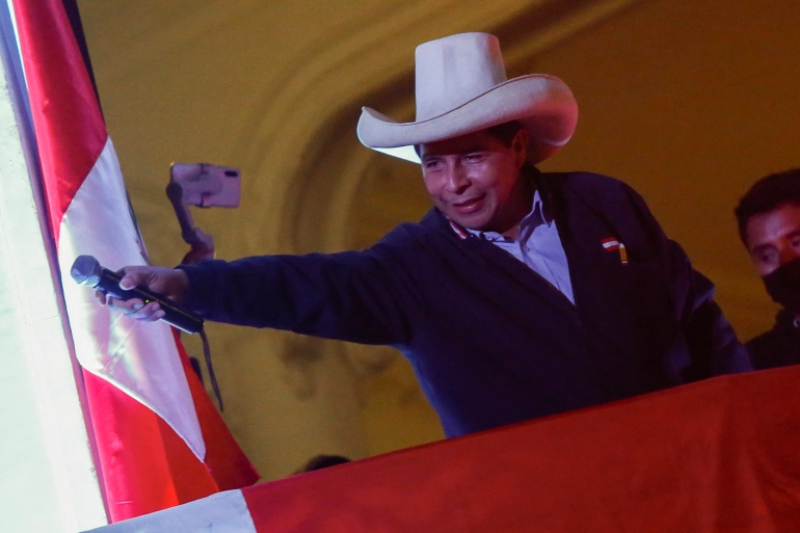 pedro castillo
Pedro Castillo claims victory in Peru's presidential run
Pedro Castillo, Peru's left-wing candidate, declared his victory in the presidential election after a lengthy vote count resulted in a narrow lead tilting towards him.
His right-wing rival, Keiko Fujimori, pledged to fight the result and is yet to concede.
The counting finished with Castillo 44,058 votes ahead of Fujimori on Tuesday. Fujimori has made allegations of fraud and has tried to get some votes annulled but has little proof to substantiate. Castillo, on the other hand, announced his win on Twitter as he thanked his supporters.
"A new era has begun," Castillo said. "Millions of Peruvians have held up in defence of their dignity and justice."
The 51-year-old rural school teacher, Castillo, garnered 50.12% to Fujimori's 49.87%, as per ONPE election body.
The JNE jury is to call the final winner.
Fujimori asked her supporters in Lima on Tuesday to keep fighting and "defend Peru's democracy." Some notable Fujimori supporters even called for fresh elections to be held.
Related Posts
Castillo's Free Peru Party has nudged down the allegations of fraud in the election. His running mate for vice president, Dina Boluarte, termed the call for a new election as an attempt to "generate violence."
Castillo vowed earlier in the day that he would not allow his rivals to deny the will of the people and annul the elections, which has seen advocates on both sides take to the roads in recent days.
Castillo told the press at the Lima headquarters that he would respect the decision of the electoral authorities and requested them to end the ambiguity by confirming the result quickly.
The sudden rise of the 51-year-old former teacher has knocked Peru's political and business elite and is set to have a meaningful effect on the vital mining industry of the world's second-largest copper producer. Castillo is planning sharp tax increases on the sector.