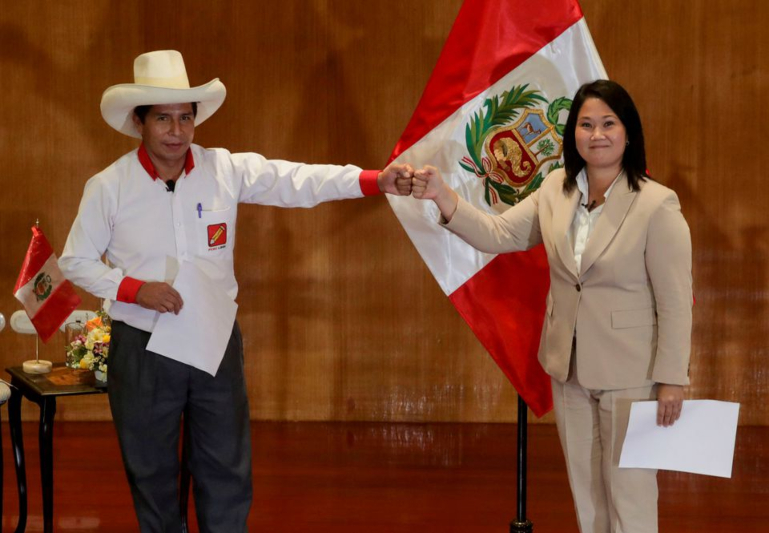 peru election
Peru votes for its future tomorrow
With promises of political and economic change to "save" Peru from "communism" and Covid-19, presidential candidates Keiko Fujimori and Pedro Castillo capped their campaigns ahead of the second round of elections on Sunday.
The candidates are neck-to-neck in opinion polls with just one week ahead of the country's most polarized presidential election. The ballot could take the country towards being a relatively safe haven for investors and sharply swing it to the left or see the somewhat controversial Fujimori family return to power.
Keiko Fujimori, the 46-year-old heir of the Fujimori dynasty, pledged to maintain stability in Peru amid a race with socialist rival Pedro Castillo, who is very popular among the poor, by pledging to quash the status quo.
Related Posts
Fujimori has been active in politics since her youth as she appeared as a 19-year-old 'first lady' with her father in the 1990s, during his divisive administration, and as a lawmaker twice before running for the top office.
On Sunday, Fujimori brought up a proposal to seek more contributions from the country's mining companies. Castillo, who is an elementary school teacher, has proposed raising taxes on miners.
Mining is a major source of revenue and economic stability for Peru. Its public finances remain strong but have been struck by the COVID-19 pandemic, with rising fiscal deficits and public debt.
Right-wing Fujimori and leftist Castillo have staged massive rallies despite gatherings being banned due to the health emergency. The authorities did not intervene to stop the campaigns.
The country, faced with proposals for political and economic on one hand, and a defense of the neoliberal model on the other, votes for either of them on the 6th of June.
Forecasts indicate that the election will be fought "vote by vote". The winner will take over from the interim president Francisco Sagasti on July 28.