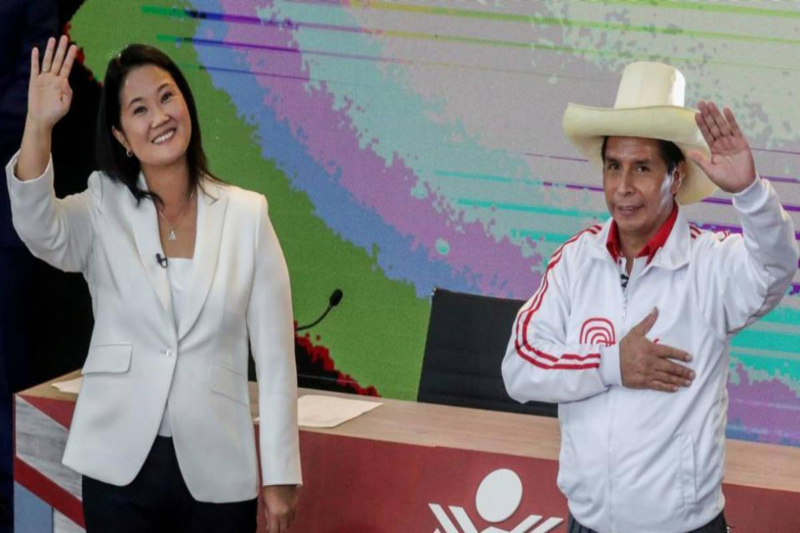 peru presidential canndidates
Supporters of Peru's competing presidential candidates take to roads amid election frenzy
Supporters of Peru's competing presidential candidates – rightwinger Keiko Fujimori and socialist Pedro Castillo – have resorted to the streets after the closely contested 6 June election has taken a legal route.
A new judge, on Saturday, was sworn into the panel overseeing disputes as Lima's streets filled up with protesting supporters.
Left-wing union leader Castillo has declared his victory after securing 50.12 per cent votes in the presidential run-off. These are about 44,000 votes more than right-wing Fujimori according to the full vote count.
Thousands of Castillo supporters walked on Saturday towards Plaza San Martín in the capital Lima. They carried giant banners of the socialist candidate, demanding for his win to be confirmed.
On the other hand, the daughter of ex-President Alberto Fujimori has claimed voter fraud. Her camp has asked the Jury of National Elections (JNE) to review thousands of ballots. Castillo's Free Peru party has denied her allegations of fraud. Castillo's supporters cite international observers who said that the elections were carried out without any serious irregularity. The US state department has also described the process as a "model of democracy". These reports bring a sense of comfort to Castillo's supporters.
The country's electoral process dived into further uncertainty this week after one of the four magistrates of the jury reviewing the ballots quit after disagreeing with the other officials over requests to nullify votes.
The leftist, Fujimori, has been making claims of fraud but with little evidence.
It has been 20 days but the country still hasn't been able to officially decide its president. The police are trying hard to keep the rival groups apart. On Saturday, the jury reformed to allow the process to restart. JNE President Jorge Salas said, "Electoral justice should not be paralysed or blocked, and cannot be halted in this phase of the process".
Related Posts