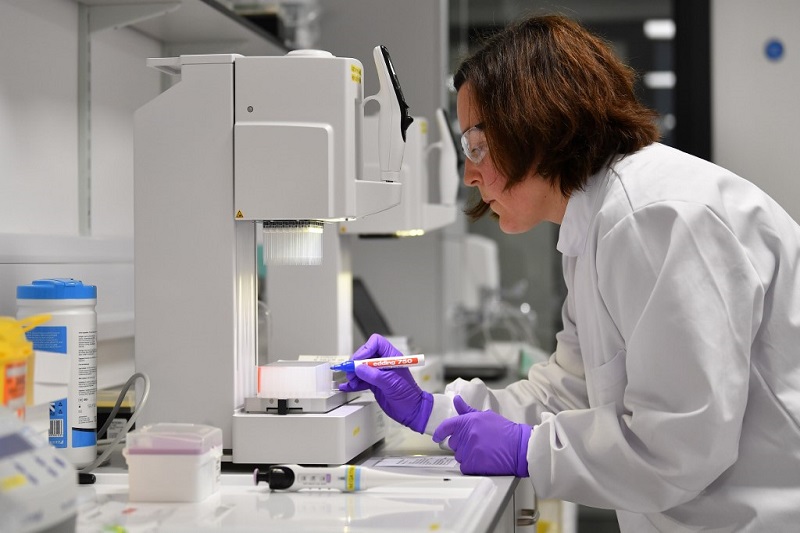 britain health virus testing
Israeli Researcher Says, "Fourth shot of COVID-19 vaccine less effective on Omicron"
Israel -Israel's Sheba Medical Center said on Monday that the fourth booster shot was only partially effective in protecting against the Omicron variant of Covid-19. The Israeli researcher of the hospital studying the shots said that the fourth Covid-19 vaccine dose may provide only limited protection against infection based on preliminary findings.
The researcher said, "We see an increase in antibodies, higher than after the third dose." Prof. Gili Regev-Yochay, a lead researcher in the experiment confirmed the effectiveness of the fourth dose based on preliminary findings of the research.
Reportedly, there were still "a lot of infections" of the omicron variant of Covid-19 among those who received a fourth shot of the Covid-19 vaccine. However, the number was slightly lower than among those who did not receive the extra dose.
The researcher claimed that it is better to roll out fourth doses to those who are at the highest risk of Covid-19 infection. The researcher suggested only giving older senior citizens the extra shot rather than everyone.
Related Posts
The hospital did not release more specific data. According to Reuters, the study is based on 154 people who received four doses of the Pfizer/BioNTech vaccine. The study also includes 120 people who received three Pfizer doses and one Moderna dose. The study is being carried out in conjunction with the Health Ministry.
In December, Sheba Medical Center started trialling a fourth dose of the vaccines ahead of the rollout of the additional booster shot to at-risk people or older senior citizens. Prime Minister of Israel Naftali Bennett decided to go ahead with Israel's fourth dose program, despite the lack of data.
Reportedly, over 500,000 Israelis have so far received a fourth dose of the vaccine. However, only immunocompromised residents, senior citizens and healthcare workers are so far eligible for the extra shot.