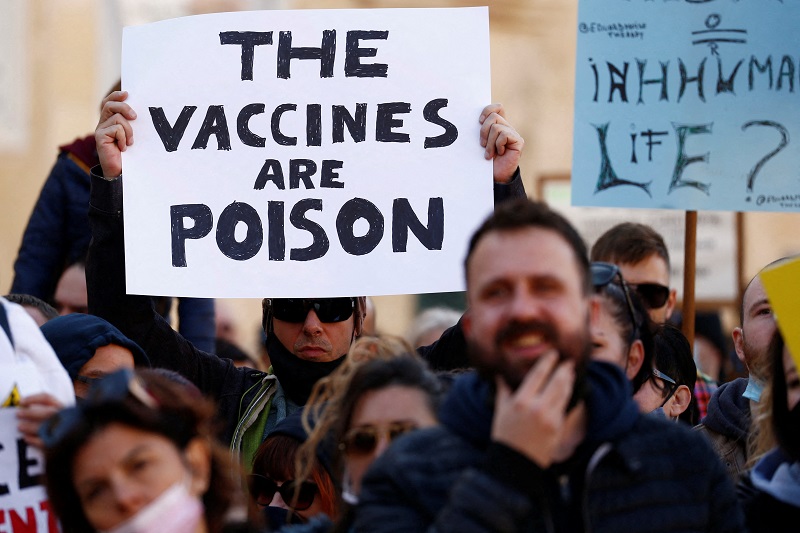 protest against current and upcoming covid 19 restrictions in valletta
Covid-19 threat: Malta sees the biggest protest against Covid-19 measures
Hundreds of people protested in Malta against the new COVID-19 rules on Sunday. Many people gathered in the capital Valletta against the new COVID-19 measures requiring a COVID certificate for entry to most places in the country.
It was one of the biggest protests in Malta against the Covid-19 measures to control the spread of Covid-19 infection. Reportedly, people need to produce an updated vaccination certificate, including the booster shot, to enter most venues including restaurants, nightclubs, cinemas, gyms, and bars. The new COVID-19 regulations come into force on Monday.
Protestors in Malta
Protestors carried signs saying, "Is it really about health?", "The vaccine is poison" and "My body is not state-owned". They argued that the new Covid-19 rules should not be mandatory. They demanded to repeal the measures.
Related Posts
Sunday's protest was organized by a group of opposition political parties. However, the main Opposition Nationalist Party also criticized the new rules of the government. They argued that there is a high take-up of the vaccine in the country. They further said these are the actions of a dictatorship.
Reportedly, the country has seen one of the biggest take-ups of COVID vaccination jabs in the European Union (EU). The country has recorded a vaccination rate of  95 percent.
The new rules are also applicable to frontline staff. They also need to be fully vaccinated.  Health Minister Chris Fearne defended the new rules. He said that the new rules were needed to fight against the Omicron variant of the Covid-19 virus. New infections spiked this week due to the Omicron variant.
According to Reuters, most of the protestors wore face masks. Police officers were seen approaching those people who didn't wear the masks. Partit Popolari leader Paul Salamone said that politicians should be ashamed for promoting vaccination in the country. He also criticised Opposition leader Bernard Grech.