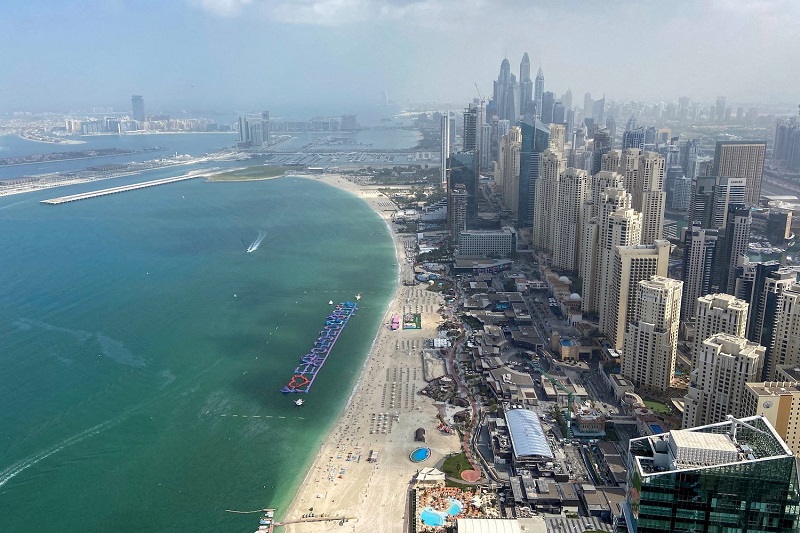 file photo: a general view of jbr in dubai
Action Plan By The UAE Government And Private Sector Shows Progress In Countering The Financial Crime
UAE -Global financial crime watchdog The Financial Action Task Force (FATF) has recognised that the United Arab Emirates (UAE) has made positive progress in countering financial crime.
The global body said that UAE made efforts for strengthening its anti-money laundering (AML), countering the financing of terrorism (CFT), and countering the proliferation financing (CPF) efforts. Consequently, FATF announced that it placed the UAE under increased monitoring. The Paris-based FATF praised the UAE's significant progress in countering the financing of terrorism.
The UAE promised to work closely with FATF to address the remaining areas of improvement. The UAE will work to eradicate financial criminal activities completely by implementing an action plan. Reportedly, the action plan will help the country's ongoing efforts to fight financial crime.
The UAE's Executive Office of Anti-Money Laundering and Countering the Financing of Terrorism (AML/CFT) said that it takes its role in protecting the integrity of the global financial system seriously and will work to strengthen its anti-financial crime framework.
FATF noted that UAE has adopted measures to improve its anti-financial crime framework to fight financial crime. Reportedly, the UAE will continue its ongoing efforts to identify and eradicate criminals who hide wealth, in line with FATF's findings and the National Action Plan of the UAE.
UAE's efforts to combat money laundering and terrorist financing
In 2021, the UAE's Ministry of Community Development established a joint mechanism with the UAE Financial Intelligence Unit to combat money laundering and financing terrorist groups. In November 2021, the Ministry of Economy established an anti-money laundering department to deal with money launderers. A court was also established in Abu Dhabi to deal with money laundering.
Related Posts
UAE has taken important steps in the past years to develop a legal framework and encourage global investors to invest in Dubai's secure environment. Thousands of companies already have regional offices in Abu Dhabi and Dubai because the government put efforts into dealing with money launderers.
Action plan by the government and the private sector
The ongoing measures to counter money laundering and terrorist financing taken by the UAE government and private sector are in place to boost the integrity of the country's financial system.
Senior officials of the UAE have reaffirmed that UAE continues to take action on financial crime and strengthen the effectiveness of the AML/CFT framework in line with the National Action Plan of the UAE.
According to the Emirates News Agency (WAM), combating financial crimes are part of the UAE's national priorities. In recent years, AML/CFT has cooperated with its partners from the public and private sectors to support the anti-money laundering and terrorism financing system.