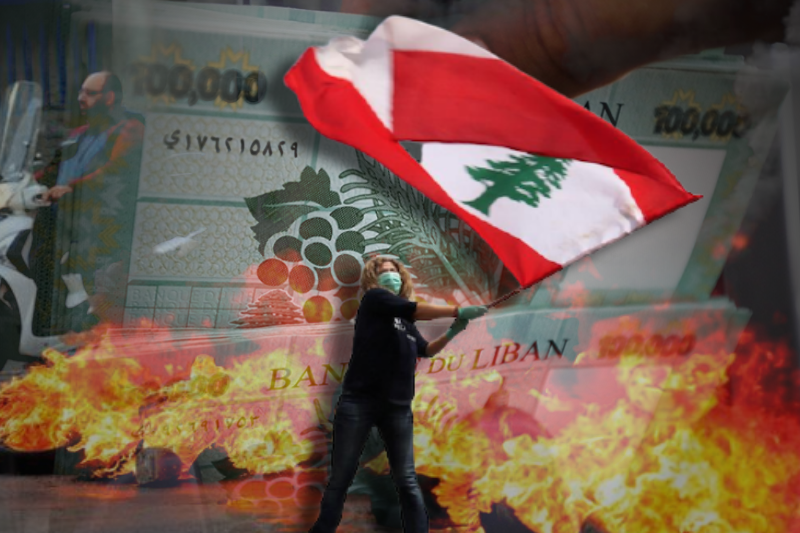 lebanons protesters back on streets as currency hits new low
Lebanon's protesters back on streets as currency hits new low
A massive protest took place in Lebanon as the economic crisis continued to surge. Protestors blocked the road out of anger. They also blocked a highway in the northern city of Tripoli.
Protestors across the country protested against corruption and demanded electricity. People used trash bins to block the roads across the country. They blocked the al-Nour Square in Tripoli, the road outside Halba's serail in Akkarm, roads in Beirut, and the Jeb Jannine road in the Bekaa.
The Lebanese pound was trading at around 33,600 to the dollar. In recent years, the pound traded at 1,500 to the dollar. The currency has been witnessing a free fall in recent days. Reportedly, the ongoing crisis has affected the monthly minimum wage of people which is now worth $22.
Lebanon's economic crisis
Lebanon has been suffering from an economic crisis since 2019. Lebanon's economic crisis deepened last August when a blast at Beirut's port devastated large parts of the city. Subsequently, Lebanon's government resigned in August. The situation led to electricity shortages throughout the country. Lebanon has a population of six million including a million Syrian refugees. The economic crisis pushed more than half the population into poverty.
Lebanon's crisis is also affecting the mental health of children. Violence against women and girls have also increased recently.
Related Posts
Demonstrators blocked roads due to the economic crisis
Earlier, protestors also protested against the economic meltdown in November 2021. Roads were blocked by Beirut city, Tripoli, and the southern city of Sidon. Reportedly, the currency lost 90% of its value since October 2019, when anti-government protests erupted. Since 2019, many protests have taken place in the country against the government. The crisis affected Lebanon's stability. Earlier in March 2021, Parliamentary committees discussed an emergency loan for the state-run electricity company because of the electricity shortages.