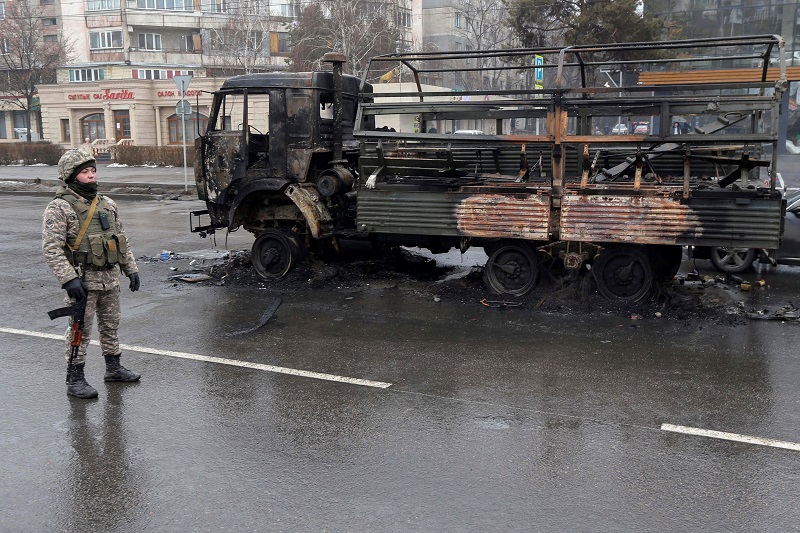 almaty amid tightened security following mass protests in kazakhstan
How violent unrest in Kazakhstan is pushing its balancing policy down the cliff
Kazakhstan– Kazakhstan has witnessed the worst street protests since its independence, but now the situation is gradually heading towards stability. After President of Kazakhstan Kassym – Jomart Tokayev issued orders to "shoot to kill without warning" and Russia spearheaded Collective Security Treaty Organization (CSTO) troops entered the country, the stability has been steadily being restored.
The violent protests led to the killing at least 160 people in Kazakhstan just over the last week. Large-scale property destruction that included banks, businesses, and transportation. Federal buildings too were attacked, including President's Almaty residence. Protestors had also seized the airport in Almaty. The protests were mainly triggered due to a surge in LPG prices. But the widespread discontent against the country's government cannot be denied as a major reason for protests.
As the protests triggered, President Tokayev wasted no time in accepting the Prime Minister's resignation and termination of the current government's powers. Emergency was declared at once across Kazakhstan. But this did not impact the protests as they continued to grow. Calling the protesters "terrorists and bandits", Tokayev asserted they were "not aware of the underground preparation of terrorist attacks by sleeper cells and militants. Almost 20 thousand bandits attacked Almaty". On orders of President Tokayev, at least 8000 people have been arrested about which he said that its main goal was "to undermine the constitutional order and to seize power. We are talking about an attempted coup d'etat".
Russian President Vladimir Putin has alleged that Kazakhstan has been targeted by international terrorists.
Kazakhstan, strategically located between Russia and China, is the ninth largest country by landmass but has a population of only 19 million. Rich with natural deposits of oil, minerals, and gas – oil reserves of 30 billion barrels and produces 2 million barrels per day. Kazakhstan was the producer of 43 percent of the world's total uranium in 2019.
Related Posts
Though there are diverse objectives geopolitically of all major nations in the region, they all want stability in Kazakhstan. This is especially true after the Afghanistan crisis – stability in Kazakhstan is essential for stability in Eurasia. Having strategic ties with major regional and global players under its foreign policy, Kazakhstan has secured its importance geopolitically. Kazakhstan is part of the Russia-led Eurasian Economic Union-including the customs union. It has also developed strong trade and energy ties with China, and is a critical partner of Beijing's Belt and Road Initiative (BRI). It enjoys ties with the US-based on security and non-proliferation issues along with huge investments by American companies in the gas and oil sector.
But the tag 'balanced' country is in danger for Kazakhstan post protests. Rising opportunities to Russia and China brought by protests have raised concerns for the West. As Moscow has high tensions with the West over the Ukraine situation, the unrest in Kazakhstan has provided Kremlin a chance to show the relevance of CSTO. Putin has asserted the CSTO "has proven its potential, its ability to act swiftly, decisively and efficiently".
Increased Russian influence in Kazakhstan is troubling the West. EU says that "we stand ready to provide assistance for a peaceful resolution of the crisis. However, outside military support should respect the sovereignty and independence of Kazakhstan as well as the fundamental rights of all citizens". US Secretary of State Antony Blinken has argued that "we are encouraging everyone to find a peaceful resolution". But he shared his clarity that "one lesson in recent history is that once Russians are in your house, it's sometimes very difficult to get them to leave".
The rising differences are clear and the "listening state" of Kazakhstan that also provided a ground of strategic agreement with all is clearly now under grey clouds.