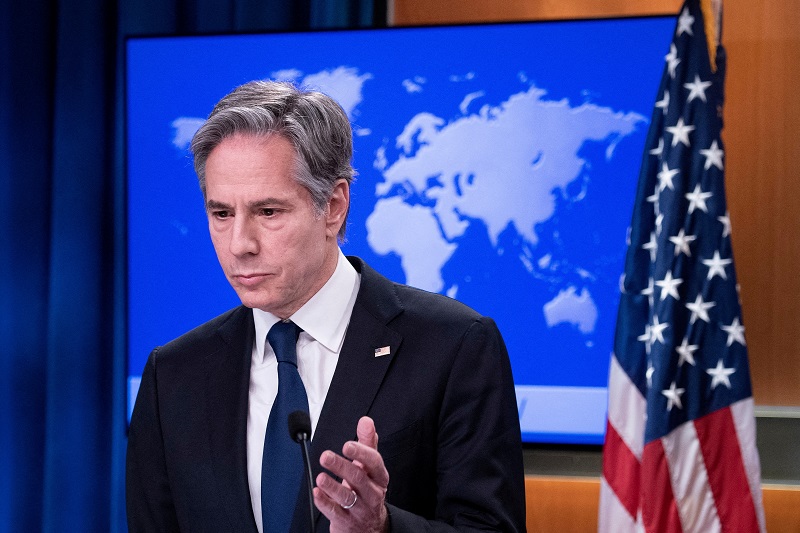 file photo: u.s. secretary of state blinken speaks about russia and ukraine in washington
Myanmar Continues To Be Sanctioned By US, Britain, And Canada For Its Heinous Act Against Democracy
Myanmar isn't getting away with its dirty trick and still continues to be sanctioned, even one year after they brought forth the military coup and derailed the democratic process of setting up of a parliament and government.
Taking serious onus of non-tolerance towards disrespect to the whole process of democracy and human rights, the United States, Britain and Canada have now imposed fresh sanctions against additional officials in Myanmar, in measures timed to mark one year since the military seized power and plunged the country into chaos.
Military put important political figures into house arrest and then imprisonment for people of great stature like Nobel laureate Aung San Suu Kyi. Showing a mark of respect, all the three countries had already imposed sanctions against Commander-in-Chief Min Aung Hlaing and other members of the junta and targeted judicial officials involved in prosecutions against deposed Ms. Kyi.
Related Posts
Ms. Kyi has been sanctioned on a dozen counts, for her crime to fight for the establishment of a democracy in Myanmar. Further, A UN team of investigators on Myanmar have further said that it is now in the process of preparing files that could facilitate prosecutions against those responsible for atrocities committed over the past year.
Not one of them is going scot-free as Nicholas Koumjian, head of the Geneva-based Independent Investigative Mechanism for Myanmar further adds, that "Those who are considering committing crimes should be aware that serious international crimes have no statute of limitations." As of now, the US Treasury has stated to the media that it was going to sanction a total of seven individuals and two entities. This includes the junta's attorney general, Thida Oo, whose office it said had crafted politically motivated charges against Suu Kyi.