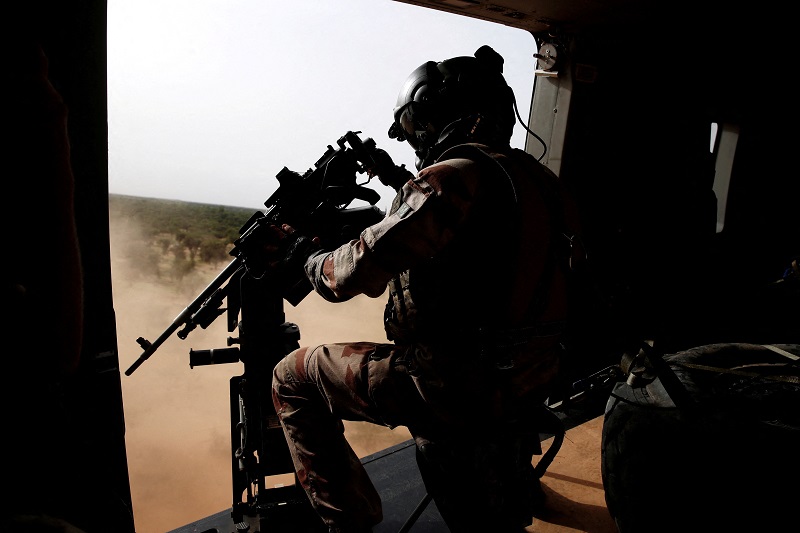 file photo: a french soldier mans a machine gun in the door of a nh 90 caiman military helicopter during operation barkhane over ndaki
Denmark moves troops back from Mali
Denmark is set to pull its troops out of Mali following calls from the latter's military government for their withdrawal.
Foreign Minister Jeppe Kofod confirmed the development on Thursday.
It is pertinent to state that the Danish soldiers had been planning to participate in an international contingent fighting versus the Islamist insurgency spread across countries in the Sahel region.
"Messages were sent out by the Malian transitional government and the coup generals in a public statement where they reiterated that Denmark isn't welcome in Mali. Thus, we will not put up with that. We have decided to bring our soldiers home," Kofod said.
The junta rejected Copenhagen's stance that it had been invited by Ibrahim Boubacar Keita – the ex-President overthrown by the military in 2020.
According to media reports, tensions have escalated over allegations that authorities have deployed contractors from the Russia-backed Wagner Group.
Related Posts
"We will keep up with our close cooperation with European allies to keep the pressure on Mali's rulers to bring the country back to democracy. We want to create a safe environment for the people in Mali to combat the terror groups," Kofod added.
According to Denmark, it had sent 105 military personnel on January 18 to Mali to join a European forces mission known as Takuba. The move was set up to tackle armed groups in Mali and was approved after a "clear invitation" from Mali.
However, this week, the Malian government said it was surprised by the Danish presence in its vicinity because a decision wasn't made on a request to deploy Danish troops.
It merits mentioning that relations have soured between Mali's ruling military and France since the army seized power.
Tensions surged when West African states imposed sanctions further from December, including border closures and a trade embargo.