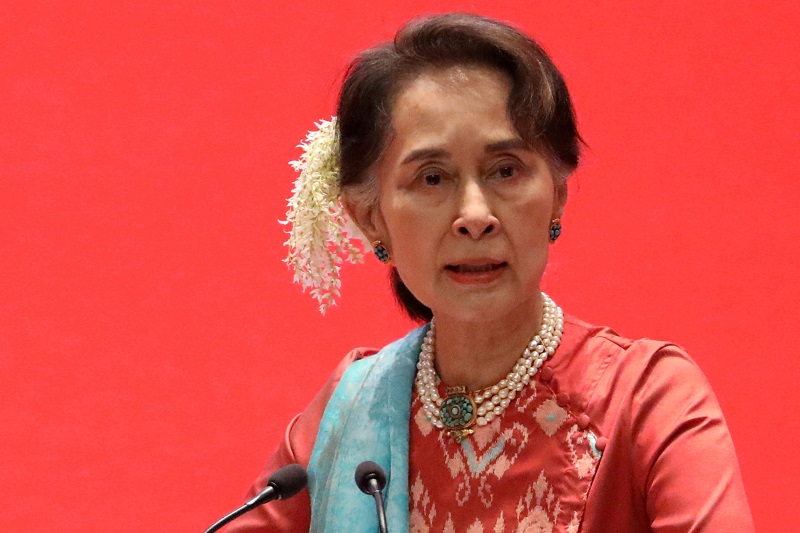 file photo: myanmar's state counsellor aung san suu kyi attends invest myanmar in naypyitaw
Myanmar's Military government files corruption charge against Aung San Suu Kyi
Myanmar -Myanmar's military government filed a new corruption charge against ousted leader Aung San Suu Kyi and former President Win Myint. Aung San Suu Kyi was ousted on February 1. Several charges were leveled against her in the aftermath of a military coup on December 14.
She also faced charges for violation of covid-19 guidelines. Reportedly, the new corruption charge against her and the former President relates to the purchase and rental of a helicopter and falls under the anti-corruption law. According to the Telegraph, violations of anti-corruption laws are punishable by up to 15 years in prison.
Suu Kyi was first detained on February 1, when the army seized power and prevented her and her party from taking a second five-year term in office. Subsequently, Myanmar's military government claimed that the army intervened because of widespread electoral fraud during the general election in Myanmar.
Related Posts
In November, she testified in court for the first time in one of several cases against her. Suu Kyi is a Burmese politician. She served as State Counsellor of Myanmar and Minister of Foreign Affairs from 2016 to 2021.
Reportedly, a spokesperson for Myanmar's military government did not respond to any calls from Reuters seeking comment on the new corruption charge filed against her. Suu Kyi's lawyers also did not have any comment on these charges. The lawyers have been issued with a gag order in relation to the cases by the court. Since October, the Lawyers have been barred from discussing the court proceedings. The gag order was imposed in accordance with Section 144 of the Code of Criminal Procedure.
In October, Suu Kyi's main Lawyer, Khin Maung Zaw also wrote on his Facebook page that the action against him was taken under Section 144 of the Code of Criminal Procedure. The procedure was intended to deal with emergency situations that threaten public safety.