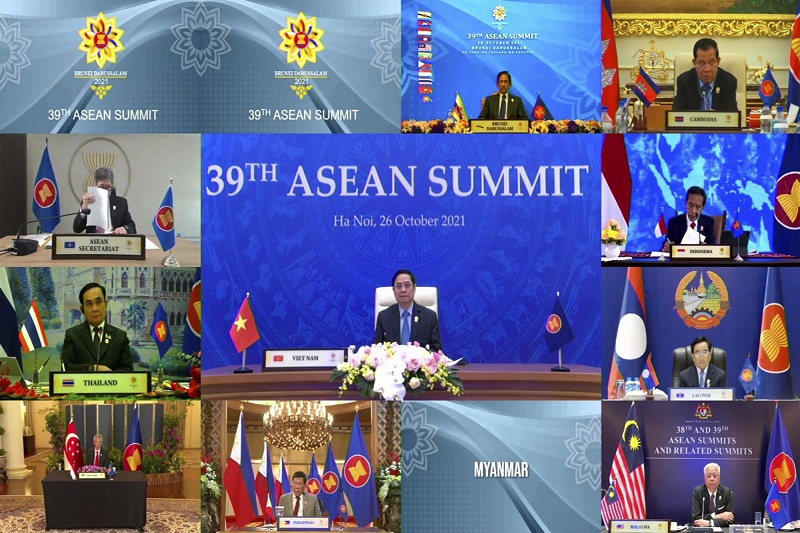 asean summit begins without myanmars hlaing
ASEAN summit begins without Myanmar's Hlaing
Southeast Asian leaders have started their annual summit without Myanmar.
This step comes after its military refused to send theri representative to the three-day meeting – protesting over the exclusion of its top general.
Neither Brunei nor the bloc's secretary-general gave a comment on the no-show in opening remarks at the virtual meeting on Tuesday.
ASEAN, in an unprecedented move on October 15, agreed to stop Myanmar's military chief Min Aung Hlaing.
ASEAN is made up of Cambodia, Indonesia, Laos, Malaysia, Brunei, Myanmar, the Philippines, Thailand, Singapore, and Vietnam. Myanmar joined the bloc in 1997 under a previous military government.
Related Posts
Hlaing toppled a civilian government on February 1 and has failed to implement a peace plan that he agreed with ASEAN in April – ending a political crisis triggered by the coup.
The move is a bold step by the regional group that is famous for its non-interference and engagement.
Brunei had invited Chan Aye, Myanmar's highest-ranking diplomat, as a "non-political" representative but she refused to attend.
Myanmar's military promised on Monday to challenge ASEAN's decision, saying it had informed Brunei that it would only accept participation by Min Aung Hlaing.
Malaysian Prime Minister Ismail Yaakob, after Tuesday's leaders meeting, said on Twitter that he completely supported Brunei's decision regarding Myanmar's representation, while his Thai counterpart said ASEAN's dealings with Myanmar were important for its reputation and a test of its leadership.
In deciding to sideline Myanmar, ASEAN cited its failure to lock steps to end hostilities, allow humanitarian support, initiate dialogue, and grant an envoy full access to the country.