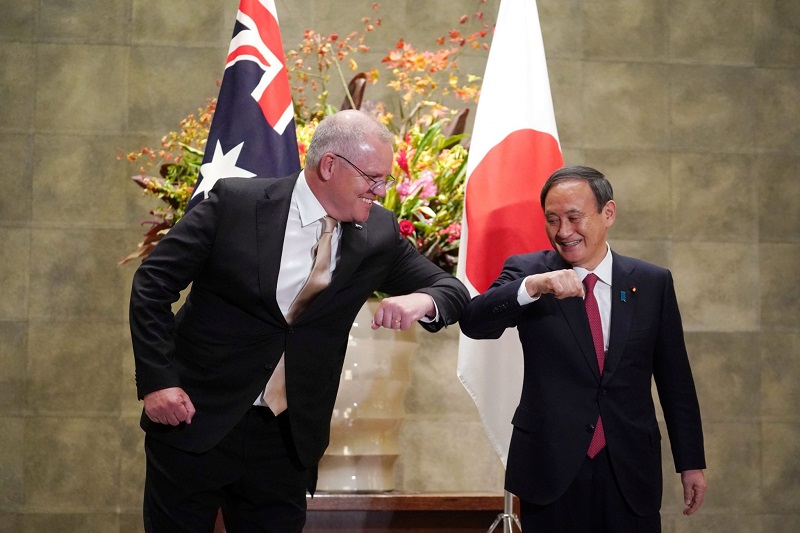 japan australia come together to counter chinas growing encroachment in indo pacific region
Japan & Australia come together to counter China's growing encroachment in Indo-Pacific region
Last updated on January 28th, 2022 at 05:38 am
China has been growing its coercive presence in the South and the East China Sea, rather aggressively. From economic pressure to conducting "grey zone operations" in the region, threats to unify Taiwan by hook or crook are just few of the rising threats posed by China in the region that are directly linked to countries in the region. Beijing has itself boasted of its actions "to shape an ideological environment conducive to its rise and to counter Western values."
In efforts to counter China's expanding influence and coercion in the region, Australia and Japan signed a Reciprocal Access Agreement (RAA) on January 6 in a virtual summit. Under this agreement, Tokyo and Canberra will hold a bilateral alliance but would be only secondary to an individual alliance with the United States of America. RAA speaks scores of the importance of partnership between both countries as well as with the US in the Indo – Pacific region. RAA will enable both Japan and Australia to hold joint training operations as well as deploy resources like submarines, troops, and warships. The agreement further provides an opportunity for the nations to work on aligned trade, security and diplomatic policies in the region.
Related Posts
The RAA will help in harmonizing regional associations as well, for instance, ASEAN. Association for southeast Asian Nations or ASEAN is an important ingredient for pushing free and open Indo – Pacific region, of which both Japan and Australia are a key part. But China's coercive influence in the region is countering and marginalizing ASEAN, leading to disputes in the region spanning illegal fishing, piracy, territorial disputes, climate change, and the Covid-19 pandemic. To counter this Chinese influence would require hard work from both Tokyo and Canberra – aligning their policies in Southeast Asia and thereby strengthening ASEAN's strategic autonomy.
Canberra and Tokyo should also utilize the RAA agreement to bolster maritime domain awareness capabilities, search and rescue operations, and humanitarian assistance and disaster relief (HADR) coordination with ASEAN member states.
Growing Chinese influence in the Indo – Pacific region is a threat to regional peace, ASEAN's autonomy, and free trade. With the advent of AUKUS last year and the latest RAA, the hope is for Australia and Japan to take lead to counter Beijing's influence and bring concord in the Indo – Pacific region.