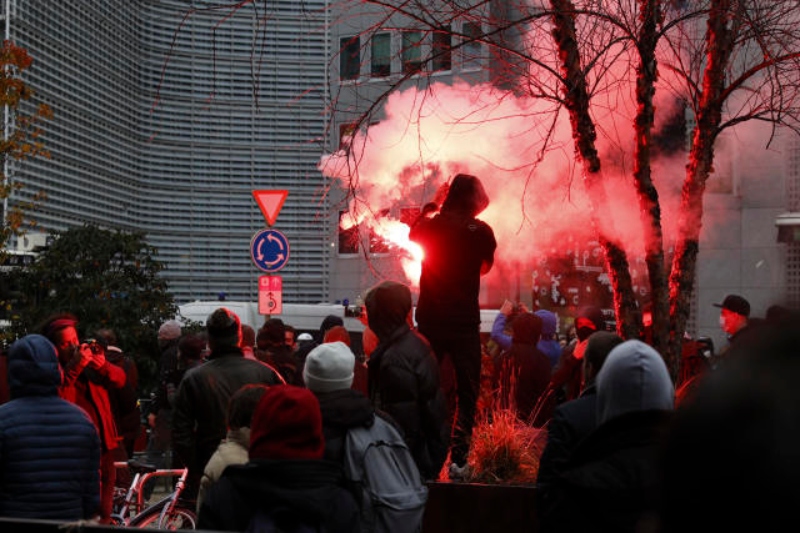 belgium protest
People despise Covid-19 restrictions called by Belgian government
Belgian
Belgium population does not want covid-19 restrictions anymore despite the World Health Organisation warning about the threat of the latest variant Omicron virus. On Sunday, hundreds of people were seen on streets of Brussels to protest against  tightened COVID-19 restrictions. 
The government had tightened Covid-19 restrictions in the wake of safety concerns due to the Omicron virus. There also has been a spike in the cases in the last few weeks and that has made the government take this condition.
Standing at the centre of Brussels, the marchers demonstrated against the government saying that the restrictions announced on Friday is the third time that the officials have tightened the regulations. The increase in cases is putting a strain on the health care services, which is essentially depriving them of treatment for other life-threatening diseases like cancer.
There were nearly 200 people on the streets and they were shouting  "Freedom! Freedom!" as they carried banners which read, "United for our freedom, rights and our children." They marched towards the European Union headquarters where many of them were seen carrying sign boards against the vaccines made mandatory for the population. 
Related Posts
Given the worsening situation of the country in terms of the coronavirus pandemic, Prime Minister Alexander De Croo on Friday announced that kindergartens and primary schools will be closed one week ahead of the holiday season.
The leader also said that the children should also wear masks and it is mandatory for all from the age six. As far as gatherings are considered, only 200 people will be allowed for indoor events.
Ahead of these calls, the government had also decided to close down nightclubs along with closure of bars and restaurants before 11 pm. Now there are speculations that time will further be decreased and the facilities will be closed down at 8 pm itself.