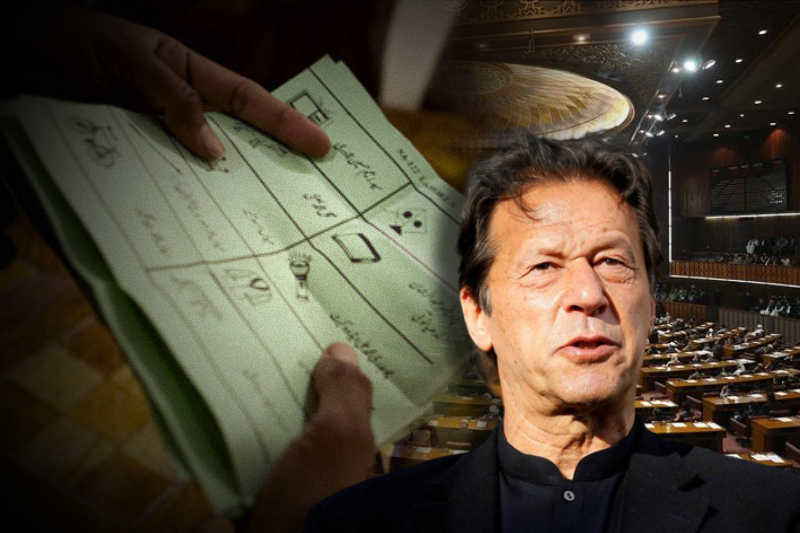 imran khan denotified as pakistan prime minister after the dissolution of the national assembly
Imran Khan Denotified As Pakistan Prime Minister After The Dissolution Of The National Assembly
Pakistan Tehreek-e-Insaf (PTI) chairman Imran Khan has been denotified as the Prime Minister of Pakistan on Sunday, in the wake of the dissolution of the National Assembly by the President.
Pakistan's Cabinet Division issued a statement in this regard. A notification from the Cabinet Division said, "Imran Ahmad Khan Niazi ceased to hold the Office of the Prime Minister of Pakistan, with immediate effect."
This news came after the deputy speaker of the National Assembly (NA) Qasim Suri dismissed the no-confidence motion against Khan and termed it "unconstitutional". After the no-trust motion against Khan was dismissed on Sunday, Pakistan Army had said it is not involved in politics. Reportedly, Pakistan President Arif Alvi dissolved the National Assembly on the advice of PM Khan.
Related Posts
The opposition leaders approached the Supreme Court after their no-confidence motion was declared "unconstitutional" by the deputy speaker. Subsequently, Pakistan Chief Justice Umar Ata Bandial said that the dissolution of the National Assembly will be subject to the court's order. The top court will resume its hearing on Monday afternoon on this matter.
Reportedly, under Article 224 of the Constitution of Pakistan, Khan can act as the prime minister for 15 days till the appointment of a caretaker Prime Minister. President Arif Alvi also confirmed this on Twitter. However, Khan cannot take decisions that an elected head of the government is supposed to take.
Khan advised the president to order fresh elections, fueling anger among the opposition parties. As per media reports, a snap election is slated to take place within 90 days.
Pakistan's main opposition parties have been rallying for Khan's dismissal since he rose to power in 2018. They accused him of vote-rigging. They accused him of mismanaging the country's economy and foreign policy. No leader has completed a full five-year term as prime minister of Pakistan since the country's formation in 1947.