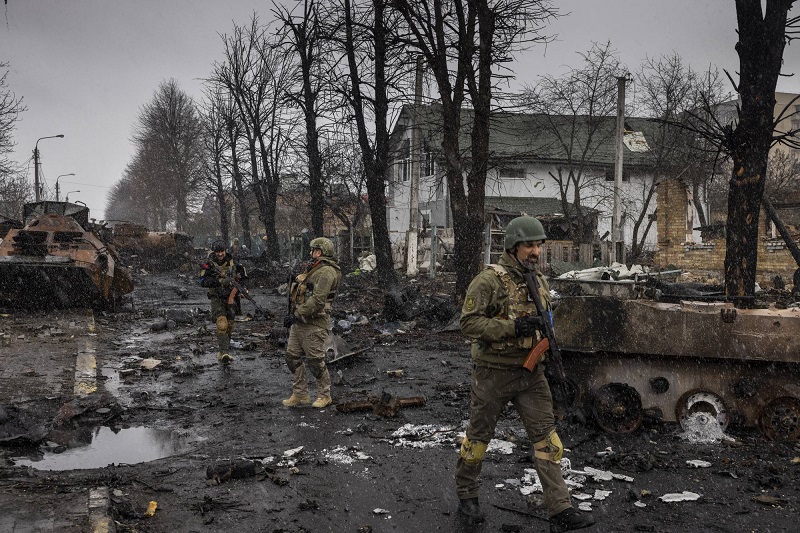 destruction in bucha, ukraine, on sunday, april 3, 2022. (ivor prickett/the new york times)
Unarmed civilian killings in Bucha & Kyiv condemned as war crimes, UN Secretary General calls for probe
Western leaders have collectively condemned and accused Russia of "terrible war crimes". Scores of unarmed civilians in Ukraine's Bucha and Kyiv, and surrounding areas, have been killed in atrocities conducted by armed Russian soldiers. This has triggered a fresh wave of stricter stance against Moscow and calling for fresh sanctions. President of Ukraine, Volodymyr Zelensky has accused his Russian counterpart Vladimir Putin of ordering attacks in his country that amount to 'genocide'. The world watched in horror as reports surfaced of civilian bodies being piled up in 'graveyards' in Ukrainian towns of Bucha, Irpin and Hostomel near capital city of Kyiv, as the Russian troops move eastwards in an apparent new leg of their offensive against Ukraine.
Talking to the United States network CBS, President Zelensky said that as Kyiv has refused to be subdued by Moscow, "we are being destroyed and exterminated". He called the war "the torture of the whole nation".
Witnesses share atrocities conducted by the Russian soldiers in Bucha, who now have withdrawn and relocated from the area, including firing on men attempting to flee the town and killing civilians at "free will". A witness, 43 year old Taras Schevchenko said Russian soldiers had denied Ukrainian men to leave through established humanitarian corridor and instead had shot at them as they tried to flee through an open field. He shared that bodies of innocent unarmed Ukrainians were spewed on pavements as some were "squashed by tanks … like animal skin rugs".
Related Posts
Reporters from AFP (Agence France Presse) have reported of seeing at least 20 bodies, in civilian clothing, scattered across a street in Bucha on Friday. One of them had his hands tied behind back with his Ukrainian passport left beside his body. "All these people were shot," Bucha's mayor, Anatoly Fedoruk, told AFP. He added that 280 bodies had been buried in mass graves in Bucha.
World leaders have strongly condemned the developments. The UN secretary general, António Guterres, said, "I am deeply shocked by the images of civilians killed in Bucha, Ukraine. It is essential that an independent investigation leads to effective accountability." Osnat Lubrani, UN Humanitarian Coordinator for Ukraine, tweeted, "Ukrainians are enduring a living hell for more than a month, thousands of civilians have died." She added, "This horrific war needs to stop."
German chancellor, Olaf Scholz, said expressing his shock, "Streets littered with bodies. Bodies buried in makeshift conditions. There is talk of women, children and the elderly among the victims." The United States Secretary of State, Antony Blinken, described the sight of watching scores of civilians being killed in Bucha as "a punch to the gut". The Western leaders have vowed in a document to hold the perpetrators of atrocities in Ukraine to account.
Charles Michel, the head of the European Council, said he was shocked by "haunting images of atrocities committed by [the] Russian army in liberated region of Kyiv", adding that "further EU sanctions and support are on their way".
On Friday, Mr Guterres posted on Twitter that the United Nations "is doing everything in its power to support people whose lives have been overturned by the war in Ukraine." He added that though humanitarian aid and support staff have been able to reach more than 1.4 million people in Ukaine, specifically in the east part of war torn country, "this is not enough". He added, "We need safe, unimpeded access to all areas".