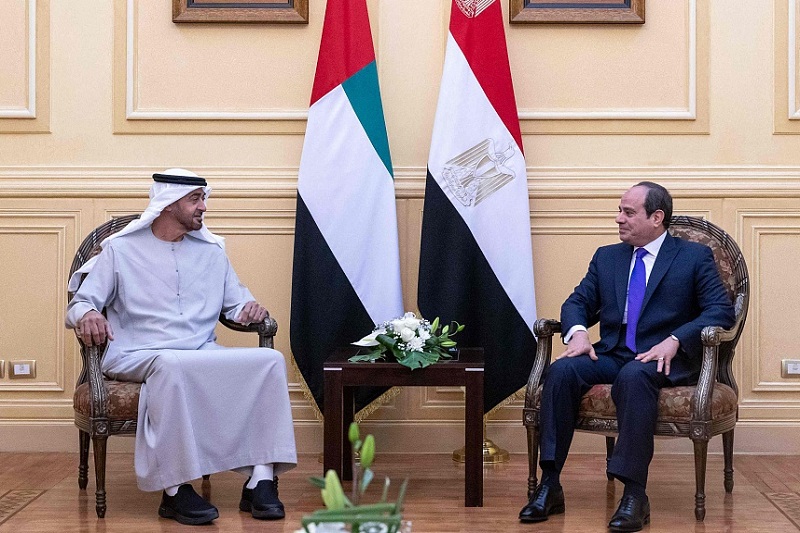 historic summit egypt hosts uae and israel leaders
Historic summit: Egypt hosts UAE and Israel leaders
Tuesday, March 22, was a historic day in regional political and diplomatic arena as Egypt hosted leaders from Israel and the United Arab Emirates for trilateral talks. The rare event is also the first such meeting between leaders from the UAE and Israel since the former normalized relations with latter under umbrella of The Abraham Accords. The leaders met in the Red Sea resort of Sharm el-Sheikh, focusing on global economic impact of ongoing Russian invasion of Ukraine. The Israeli media also has reported the rising concerns over Iran's growing regional influence amid negotiating talks on Iran Nuclear Deal or JCPOA (Joint Comprehensive Plan of Action).
Egyptian President Abdel Fattah el-Sissi, Israeli Prime Minister Naftali Bennett and the UAE's de facto ruler, Sheikh Mohammed bin Zayed Al-Nahyan met in the Red Sea hotel for trilateral summit on March 21 and 22. The statement issued by Egyptian Presidency suggests that key discussion topics between leaders included food security and energy market stability. These agendas are at present of deep concerns in the region, especially Cairo, due to challenges posed by war in Ukraine that has resulted in extreme surge in prices of crude oil and wheat.
WAM, the official news agency of the UAE noted that the leaders also "exchanged views on a number of regional and global issues of mutual concern and relevant developments."
Related Posts
Iran was also a key discussion topic as noted by Israeli media. A statement released by Israeli Prime Minister Bennett's office said, without directly naming Iran as the main topic, "Against the backdrop of the recent developments in the world and the region, the leaders discussed the ties between the three countries and ways to strengthen them on all levels." But Idan Roll, Israel's deputy foreign minister, said that Israle was "committed to build a good partnership with anyone possible against the radical axis of Iran."
Israel has been strongly opposing the Iran Nuclear Deal and is also against the active negotiations to resume the split deal after former US President Donald Trump had exited it in 2018. After US had imposed severe sanctions on Iran, the latter had bolstered uranium enrichment program and violated multiple conditions under the deal. Tel Aviv has maintained that no deal can put a hold on Iran's aggressive plan to make a nuclear weapon, and must instead be handled in a tough and aggressive manner.
In 1979, Egypt had become the first country to sign a peace deal with Israel. And in 2020, UAE became third Arab country to sign diplomatic ties and normalize relations with Israel under US brokered The Abraham Accords.