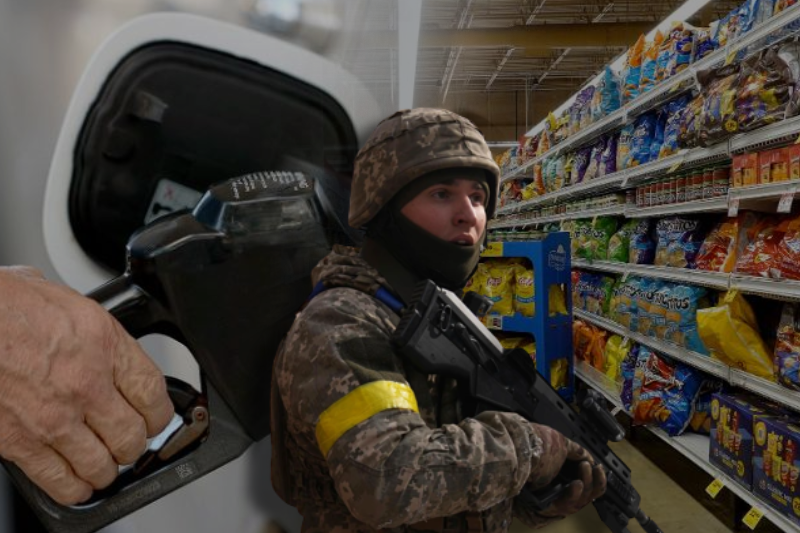 how economic impact from russias war on ukraine has started to wreck havoc
How economic impact from Russia's war on Ukraine has started to wreck havoc?
A month into Russian invasion in Ukraine and the world has started to fall apart. The Russian aggressive military attack on Ukraine is said to be the largest in Europe since World War II. The repercussions are evident with millions of Ukrainians being forced to flee the country – the exodus being called a humanitarian crisis by United Nations. People in Ukraine are now desperate with rapidly depleting reserves of food and medicine. But the invasion led economic fallout is now beginning to spread across the world.
Goldman Sachs has projected that global growth prediction has been slashed down due to war and there has been a 35 per cent rise in chances of United States witnessing recession in 2023. The war in Europe is now showing tangible impact, and the pain is scary and impacting millions.
Consumer prices are sky-rocketing with series of sanctions and disrupted supply chain. Oil and other commodities' prices have soared globally. Fuel prices surge is also directly impacting hike in food prices – hunger crisis in looming if not addressed urgently. The desperation due to food price hike is so severe that France is considering distribution of food vouchers to people to help afford food. Diesel, as said by a commodities trading company is in short supply and might need to soon be rationed.
Related Posts
Ukraine is witnessing mass exodus with people having nothing to afford their basic needs. The people left in country are staring at some days' worth of food. Mercy Corps, an aid agency warned that Ukraine's humanitarian framework "is entirely broken down". "At least 70 percent of the population of Kharkiv and Sumy is entirely dependent on aid," estimated Steve Gordon, Mercy Corps' Ukraine humanitarian response adviser.
Russian invasion has created a ripple effect with global food prices witnessing a record surge. Hike in fuel prices and shortage in fertilizer supply has led prices of wheat, corn, vegetable oils, and soybean to blow off the roof. Food insecurity is now a global crisis, and developed nations are not left untouched. French President Emmanuel Macron has called the issue a "worldwide food crisis". In an interview on Tuesday with France Bleu radio, Macron said, "I want to put in place a food voucher [system] to help the most modest households and the middle class facing these additional costs."
With Russia shunning crude oil, energy prices have sky rocketed across the world. As part of sanctions, Russian oil has been banned by the United States, Canada, the United Kingdom and Australia. Oil companies in Europe like Shell, Total and Neste too are now facing rapidly depleting stocks. "The thing that everybody's concerned about will be diesel supplies. Europe imports about half of its diesel from Russia and about half of its diesel from the Middle East," said Russell Hardy, Vitol's CEO, at the FT Commodities Global Summit in Lausanne, Switzerland. "That systemic shortfall of diesel is there."
The war now is just not between Russia and Ukraine, but rather an urgent crisis for world. Economic pain from war led by Russia is real, and it is just starting to manifest.