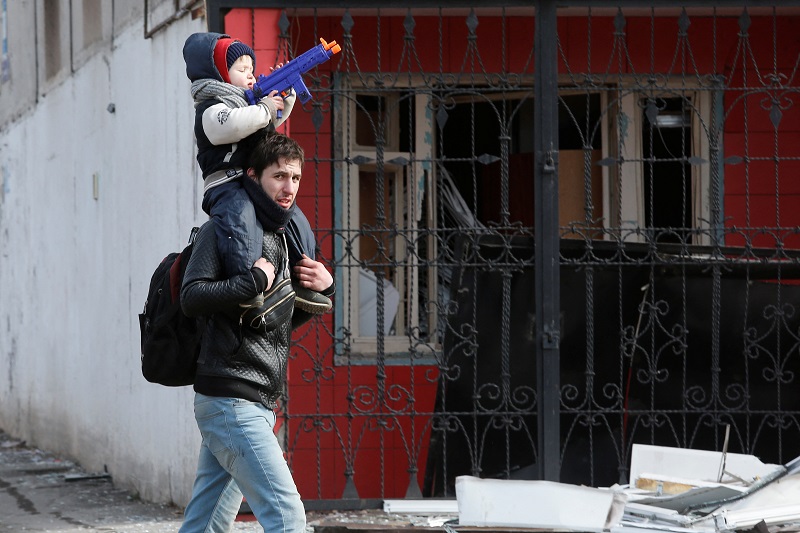 local residents walk in the besieged city of mariupol
Ukraine defies deadline by Russia to surrender Mariupol, says 'no question' of surrender
Last updated on March 22nd, 2022 at 01:16 pm
Kyiv has defied the deadline by Moscow to surrender Mariupol by 5 am Moscow time (2 am GMT) on Monday. As shelling continued in Kyiv, Russian military had given the ultimatum for Ukrainian forces and civilians in Mariupol to surrender. Even though Mariupol has been besieged by Russian forces for about four weeks now, Zelensky government gave a strong pass to Moscow's demand for the city to "lay down your arms".
Ukraine's deputy prime minister Iryna Vereshchuk said there is no question of surrender. "There can be no talk of any surrenders, laying down of arms. We have already informed the Russian side about this," the Deputy Prime Minister said, according to online news site Ukrainska Pravda. "Instead of wasting time on eight pages of letters, just open a [humanitarian] corridor."
In a Sunday night briefing, Col-Gen Mikhail Mizintsev, the director of the Russian national defence management centre, had said, "A terrible humanitarian catastrophe has developed. All who lay down their arms are guaranteed safe passage out of Mariupol." He added that the humanitarian corridor would be opened for civilians in Mariupol eastwards and westwards to move out of city at 10 am Moscow time on Monday.
Related Posts
Past few weeks both Moscow and Kyiv have exchanged blames for failure to open such humanitarian corridors at many instances. Mizintsev has used words for Ukrainians like "bandits", "neo-Nazis" who have engaged in "mass terror" and led to the carnage in the city. Ever since Russia invaded Ukraine on February 24, Mariupol has undergone some of the heaviest bombings. At present, it is estimated that more than 400,000 residents are trapped in the besieged city with rapidly depleting food, water and power.
Ukrainian President Volodymyr Zelensky is holding his ground firmly and engaging with the Western leaders to come in the picture actively and end this bloodshed in his country. As NATO summit is scheduled in Brussels for this week, Zelensky has said maintaining pressure on the West that failure to end war through negotiations might lead to "World War Three".