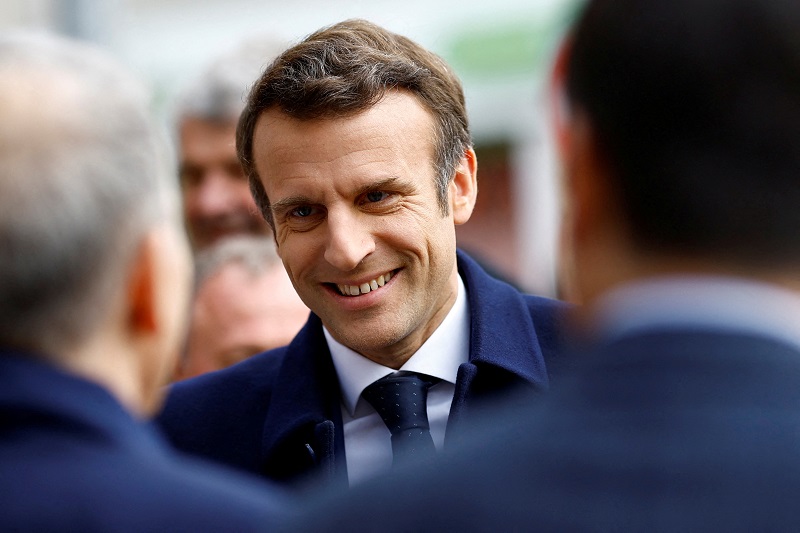 file photo: french president emmanuel macron is welcomed by officials as he arrives for an election campaign appearance in fouras, france
French Election: Emmanuel Macron Vs Le Pen On April 24
The President of France, Emmanuel Macron, has conducted his first campaign rally for an election now less than a week away. He called on tens of thousands of cheering supporters to help him win the upcoming election.
Macron started his speech with a long list of accomplishments and promised to create jobs in hospitals and nursing homes. He declared his intention to run again last month because he was distracted by the war in Ukraine. The diplomatic attempt to end the war in Ukraine has been time-consuming for Macron. He entered the campaign late and focused on unpopular economic reforms including raising the retirement age. The rally was crucial for Macron to display his engagement with the electorate.
Emmanuel Macron vs Marine Le Pen
The country may witness the 2017 election showdown between Emmanuel Macron and Marine Le Pen. Five years ago, Macron beat Le Pen with 66.1 per cent of the vote in the second-round runoff.
Le Pen is making her third attempt to gain power in the country. Édouard Philippe, a former prime minister in Macron's government, said that Le Pen can win the upcoming election.
Related Posts
According to reports, Macron has fallen two or three percentage points in polls over the past week. Meanwhile, Le Pen has been working on a low-key grassroots campaign focused on rising prices that affected household incomes. Reportedly, her ratings continue to improve for both the first round and the April 24 runoff.
According to France24, two new polls published on Saturday suggested that Macron and Le Pen would finish top in the first round on April 10. All other candidates would struggle to qualify for the runoff.
The first round of the French Presidential election will start on 10 April. The second round of the election will be conducted on 24 April.