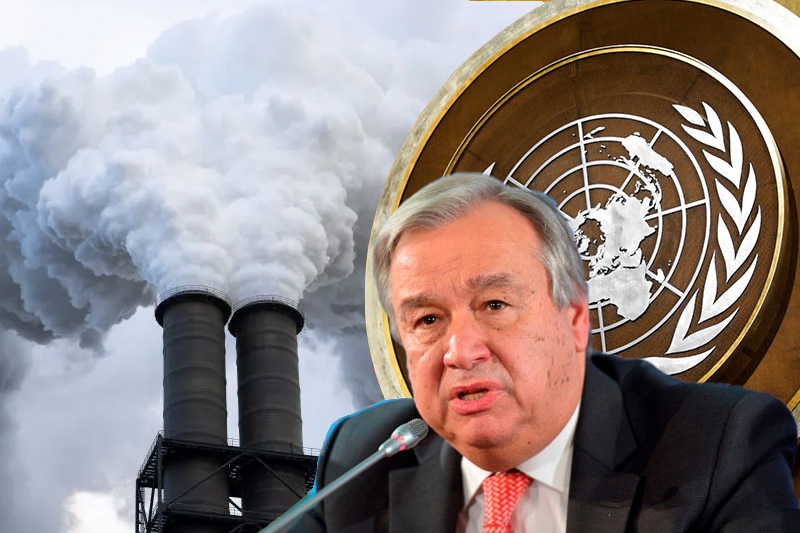 unga 77th un chief calls for windfall tax on fossil fuel companies
UNGA 77th : UN Chief calls for 'windfall tax' on fossil fuel companies
UN Chief has a plan to keep the polluters in check towards fighting the climate change. Addressing the 77th session of UNGA (United Nations General Assembly) on Tuesday from the UN headquarters in New York, UN Secretary General Antonio Guterres has called on countries to impose "windfall" taxes on fossil fuel companies and then redirect the money to vulnerable countries that are grappling from the catastrophic impact of the climate change.
Guterres stressed that "polluters must pay" for the catastrophe that is caused by worsening climate crises like floods, drought, heatwaves and many more, as he demanded that it was "high time" that all the fossil fuel producers, investors and enablers are brought to task. "Today, I am calling on all developed economies to tax the windfall profits of fossil fuel companies," Guterres said. "Those funds should be redirected in two ways – to countries suffering loss and damage caused by the climate crisis and to people struggling with rising food and energy prices."
Keep Reading
Guterres's speech that had a tone of urgency started with: "Our world is in big trouble". Addressing the countries present at UNGA, UN Chief said, "Let's have no illusions. We are in rough seas. A winter of global discontent is on the horizon, a cost-of-living crisis is raging, trust is crumbling, inequalities are exploding and our planet is burning." He added, "We have a duty to act and yet we are gridlocked in colossal global dysfunction. The international community is not ready or willing to tackle the big dramatic challenges of our age."
The speech by UN secretary general reiterates the similar calls made by climate activists and European Union. Leading oil and gas companies across the world are enjoying huge profits as the world struggles due to high demand and low supply of gas and oil due to Russia's war in Ukraine. Exxon made a record quarterly profit of $17.8 billion and Chevron announced its own three-month record profit of $11.6 billion. Meanwhile, BP made a $8.5 billion profit during past three months.
"We have a rendezvous with climate disaster … The hottest summers of today may be the coolest summers of tomorrow. Once-in-a-lifetime climate shocks may soon become once-a-year events. And with every climate disaster, we know that women and girls are the most affected. The climate crisis is a case study in moral and economic injustice," Guterres stressed.