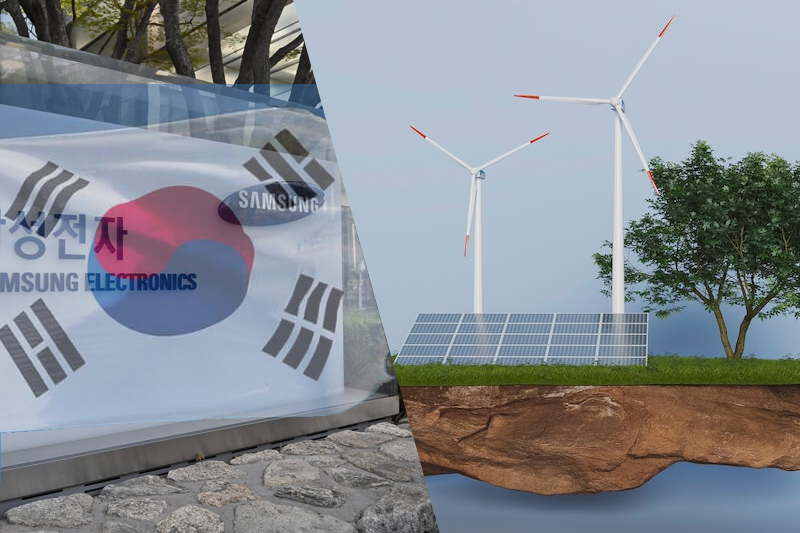 samsung sets 100 clean energy goal by 2050
Samsung sets 100% clean energy goal by 2050
South Korean company Samsung Electronics has decided to shift away from fossil fuels by aiming to entirely base its global operations on clean electricity by year 2050. The company is a leading global producer of computer memory chips and smartphones and also considered to be the biggest energy consumer among many companies that have joined the "RE100" campaign "to get 100 per cent of electricity from renewable sources like wind or solar power".
The company announced its clean energy target on Thursday and said "it aims to achieve net zero carbon emissions across its mobile device, television and consumer electronics divisions by 2030, and across all global operations including semiconductors by 2050".
Keep Reading
Samsung has laid down plans to invest 7 trillion won ($5 billion) by 2030 on projects that are aimed at reducing emissions from process gases, controlling the quantity of and recycling electronic waste, conserving water and also minimizing pollutants. It also has plans of developing new technologies aimed at reducing power consumption in consumer electronics devices and data centers. Furthermore, the South Korea based company also will set goal for long-term towards reducing emissions in supply chains and logistics. "Samsung is responding to the threats of climate change with a comprehensive plan that includes reducing emissions, new sustainability practices and the development of innovative technologies and products that are better for our planet," Jong-Hee Han, the company's CEO, said in an emailed statement.
But the new clean energy goals set by Samsung might meet hinderance by the new policies of South Korean government that has decided to dial back on its climate action goals. The conservative government of President Yoon Suk Yeol has aimed its energy policy focus on promoting nuclear generated electricity in order to boost the weakening economy. In this direction, Yoon's government has also indicated its reluctance to rapidly curb the country's dependence on coal and gas as power source that generate around 65 per cent of South Korea's electricity.