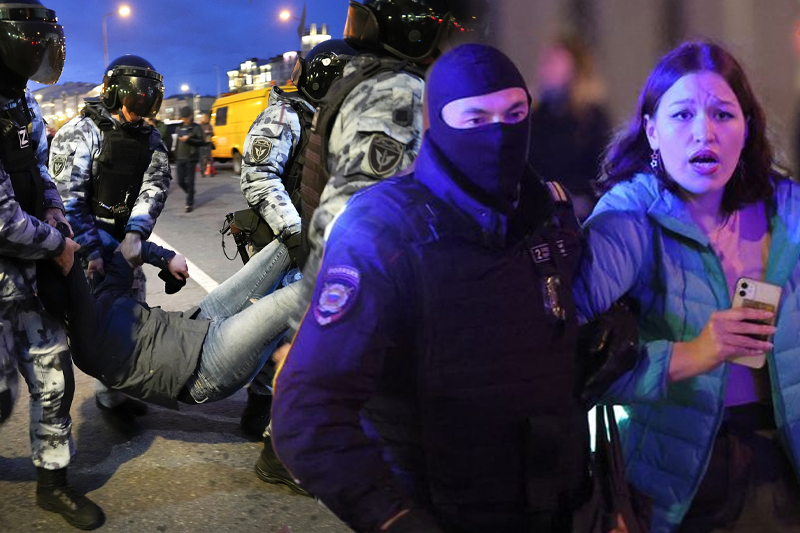 putins mobilization declaration triggers mass anti war protests across russia
Putin's mobilization declaration triggers mass anti-war protests across Russia
Russian President Vladimir Putin, though sidelined and isolated due to his relentless offensive in Ukraine sought relief in a belief that domestically he had support and a sense of normalcy in his maintained unquestioned authority. But his illusion has been shattered as mass anti-war demonstrations have triggered across the country following his declaration of "partial mobilization".
On Wednesday, by the time Putin's address on television ended, Russians had already mobilized to book limited flights out of the country while many were on streets protesting the continuous Ukraine war. The message is clear – all's not well for Putin back home. People are done with the war and are now not afraid to stand openly against it. A rights group said that by late evening more than 1,300 people had been detained across Russia, mainly in Moscow and St. Petersburg. The independent OVD-Info protest monitoring group said that based on the information it had gathered from 38 Russian cities, more than 1,311 people had been detained by late evening for protesting against the war and latest announcement by Putin. According to latest figures, about 502 people have been detained in Moscow while 524 in St. Petersburg.
Keep Reading
"In a number of regions, there were attempts to stage unauthorised actions which brought together an extremely small number of participants," Russian interior ministry official Irina Volk said. "These were all stopped. And those persons who violated laws were detained and taken to police stations for investigation and establish their responsibility."
The Vesna opposition movement called for protests, saying: "Thousands of Russian men, our fathers, brothers and husbands, will be thrown into the meat grinder of the war. What will they be dying for? What will mothers and children be crying for?" The protests triggered after Russian President ordered "immediate call-up of 300,000 reservists" for the invasion in Ukraine.
Protesters were chanting "No mobilization!" as they came on the streets protesting. "Everyone is scared. I am for peace and I don't want to have to shoot. But coming out now is very dangerous, otherwise there would be many more people," said protester Vasily Fedorov, a student wearing a pacifist symbol on his chest. "I came to say that I am against war and mobilization," Oksana Sidorenko, a student, told AFP. "Why are they deciding my future for me? I'm scared for myself, for my brother," she added.