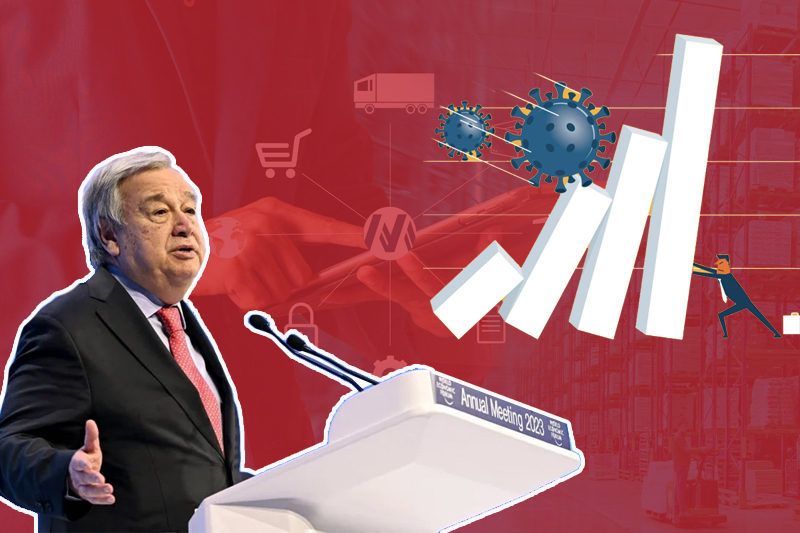 The world is in a "sorry state": UN chief delivers gloomy message at Davos
The world is in a "sorry state": UN chief delivers gloomy message at Davos
UN Secretary-General Antonio Guterres delivered a gloomy message at the World Economic Forum's annual meeting on Wednesday. The world is in a "sorry state" because of scores of "interlinked" challenges, including Russia's war in Ukraine and climate change, that are "piling up like cars in a chain-reaction crash," he said on the second day of the elite gathering of world leaders and corporate executives at Davos.
Sessions took a grim turn when news broke of a deadly helicopter crash near Kyiv that killed at least 18 people, including Ukraine's entire interior ministry leadership team. Forum President Borge Brende requested 15 seconds of silence.
The UN chief said geopolitical division and mistrust in generations are undermining efforts to tackle global problems, such as widening inequality, soaring inflation, energy crunch, supply-chain disruptions, and lingering effects of the pandemic. He highlighted climate change as an "existential challenge", adding a global commitment to limit the planet's temperature rise to 1.5C "is nearly going up in smoke."
Keep Reading
Guterres has been one of the most outspoken figures on global warming. He underscored a recent study that found scientists at one of the world's largest oil companies – ExxonMobil – had accurately predicted future global warming as long ago as the 1970s, but continued casting doubt on climate science and warning against any drastic move away from fossil fuels for years. In some cases, their projections were even more accurate than those of world-leading NASA scientists.
Nevertheless, critics have often questioned the impact of the four-day annual gathering, where global leaders and corporate executives discuss the world's problems – and in the process, make deals – but where concrete action is harder to measure. For instance, environmental campaigners have long been criticising the carbon-spewing private jets that ferry in VIPs to an event that considers the battle against climate change important.