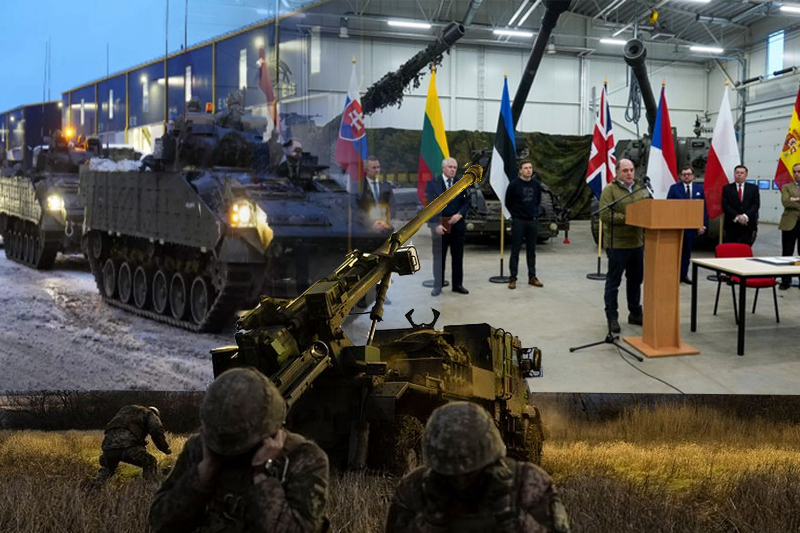 US and European countries pledge heavy weapons for Ukraine
US and European countries pledge heavy weapons for Ukraine
Following a meeting in Estonia on Thursday, a group of 11 European countries – Poland, Latvia, Lithuania, Denmark, the Czech Republic, Germany, the Netherlands, Slovakia, Spain, Estonia, and the UK, have pledged a raft of new military aid for Ukraine. It comes ahead of a crunch meeting scheduled to take place at the Ramstein military base in Germany on Friday, in which 50 countries are set to co-ordinate arms supplies.
The nine European countries that signed the Tallinn Pledge said they would urge other allies to contribute to the package at the Friday meeting. The range of new packages announced on Thursday to help Ukraine recapture territory and fend off any further Russian advances, include:
UK: 600 Brimstone missiles
Estonia: Howitzers, ammunition, support vehicles, and anti-tank grenade launchers
Denmark: 19 French-made Caesar self-propelled howitzers
Latvia: Stinger air-defence systems, two helicopters, and drones
Poland: S-60 anti-aircraft guns with 70,000 pieces of ammunition
Lithuania: Anti-aircraft guns and two helicopters
Czech Republic: Produce further large calibre ammunition, howitzers, and APCs
Slovakia: Continue intensive discussions with allies to unlock further equipment donations
Keep Reading
While the Netherlands will announce its package on Friday, representatives of Germany and Spain were also present at the meeting, even though they have not signed the Pledge. The announcement of fresh US support arrived later on Thursday, but it did not contain an offer of tanks.
Ukraine's President Volodymyr Zelensky said he expected "strong decisions" from Ramstein talks. There has been mounting pressure on Berlin to approve sending modern Leopard tanks to Ukraine. Reports suggest Berlin will allow German-made tanks only if the US offers its Abrams tanks as well.
US Defence Secretary Lloyd Austin will meet his German counterpart Boris Pistorius before the Ramstein meeting. US officials insist that Washington has no plans to send US-made tanks to the war-torn nation for now, arguing that they would require a huge logistical effort to simply run and would be too difficult for Kyiv to maintain. Supplying Ukraine with the German-made tanks made the most sense, one senior US defence official told Reuters.
Pressure has also been mounting on the German chancellor, Olaf Scholz, to at least approve the delivery of tanks by third countries. Both Poland and Finland are willing to send their Leopards to Ukraine, but require Germany's permission to do so.