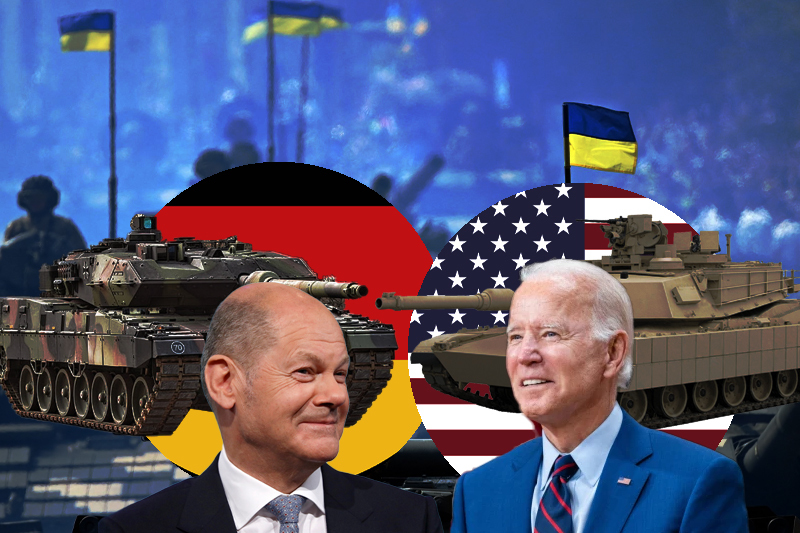 Ending deadlock, US and Germany ready to send tanks to Ukraine: Report
Ending deadlock, US and Germany ready to send tanks to Ukraine: Report
Both the US and Germany are poised to announce they will provide their main battle tanks to Ukraine, according to media reports, offering Kyiv a powerful new weapon to counter Russia as well as allowing allied nations to move on from a disagreement that threatened to undermine their unity.
While US President Joe Biden's administration is expected to announce plans to send M1 Abrams tanks as early as Wednesday, German Chancellor Olaf Scholz has also reportedly decided to send 14 Leopard 2 A6's. The hope is that the battle tanks will allow President Volodymyr Zelensky's forces to punch through the Russian lines and blunt a spring offensive that officials fear Russia is possibly planning.
However, such a tank deployment would have "unambiguously negative consequences", Kremlin spokesman Dmitry Peskov said.
Keep Reading
Until now, the US and Germany have resisted both internal and external pressure to supply the war-torn nation with their advanced battle tanks. While Washington has blamed the extensive training and maintenance required for Abrams, Berlin has cautioned against the military alliance, NATO, becoming a direct party to the war with Russia.
US officials argued that Abrams was far less suitable for Ukraine than the Leopard 2, as it relies on a special fuel, is difficult to maintain, and weighs about 70 tons and may pose a threat to Ukraine's roads and bridges. On the other hand, Germany's Leopard 2 tanks, according to the US, are easier to operate and in plentiful supply among eastern European nations.
According to the International Institute for Strategic Studies, at least 16 European and NATO countries have the Leopard 2. Earlier this week, Poland expressed its willingness to send its Leopards to Ukraine, but they are made in Germany and so Berlin needs to approve their delivery. Scholz's apparent decision now means they can.
Officials on both sides said they were still discussing numbers and the timing of any delivery.