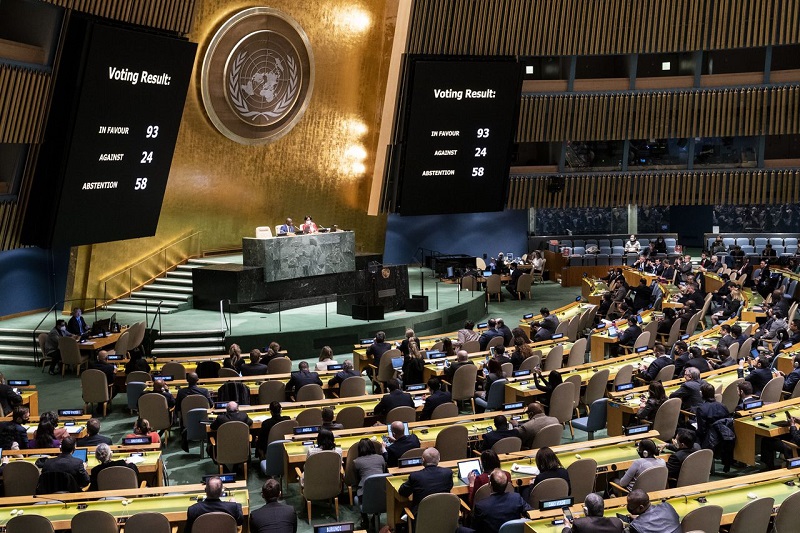 un assembly suspends russia from its human rights body
UN assembly suspends Russia from its human rights body
Last updated on April 9th, 2022 at 04:29 am
On Thursday, the UN General Assembly voted to suspend Russia from the organisation's leading human rights body and alleged that Russian soldiers in Ukraine were engaged in rights violations.
It merits a mention that the US and Ukraine have called the aforementioned actions war crimes.
According to experts, it was a rare rebuke against one of the veto-wielding members of the UNSC.
Linda Thomas-Greenfield, the US Ambassador, termed the vote "a historic moment." "We have sent a strong message that the victims and survivors of the war will not be ignored" and that Moscow must be held accountable "for this unjust, unprovoked, unconscionable war."
Thomas-Greenfield was behind the campaign to suspend Russia from the UN Human Rights Council in the wake of photos and videos showing streets on the outskirts of the capital, Kyiv, marked with the bodies of civilians after Putin's soldiers retreated. It is pertinent to state that the deaths have sparked global outrage and calls for sanctions on Russia, which has denied its troops were responsible.
Related Posts
Joe Biden said the vote showed how the Russian President's war made Russia an international pariah." The US President pledged to continue working with allied nations to gather evidence against Russia to hold it accountable. In the days to come, the US would spike the pressure on Russia's economy and isolate it in the global fraternity.
According to media reports, Russia is the second country to have membership rights cut at the rights council. The other country, Libya, was suspended in 2011 by the assembly when its longtime leader Moammar Gadhafi was brought down.
The Geneva-based Human Rights Council spots and approves investigations of gross rights violations and does periodic reviews of the human rights scenario in all 193 UN member nations.
It has created various commissions of inquiry for conflicts in Syria, Ukraine, the Palestinian territories, and elsewhere.