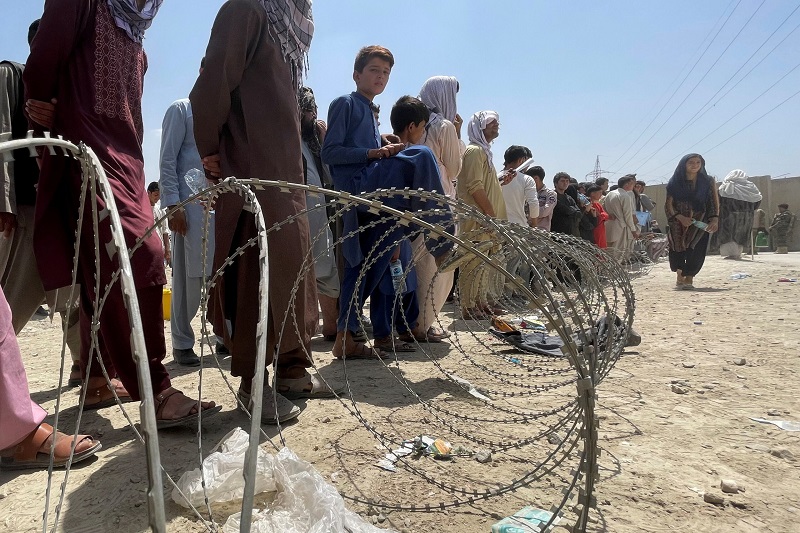 people wait outside hamid karzai international airport in kabul
UAE leads by example as it set out to help Afghanistan in crisis. What can other nations learn?
UAE – The United Arab Emirates has set a new example when it comes to helping neighbouring nations in their struggling phase. The situation in Afghanistan is hidden to no one but despite being well-aware of the struggles of Afghani people, there are hardly any countries stepping forwards except the UAE.
The UAE is only concerned about the humanitarian grounds in the region and keeping that as its first priority, the Arab nation is providing all the help that the nation in crisis requires. Currently, there are quite a few organisations who are actively concerned or are raising efforts to help Afghanistan but the UAE has been providing aid as a nation itself.
The efforts prove that the UAE leadership is focused on helping the people and providing them with basic necessities rather than having a stereotypical view of the whole situation. With its efforts, the UA has shown the world what it is capable of and how to lead by example in crisis situations.
Even the World Health Organisation acknowledged the UAE's efforts and thanked it for the assistance that it was providing to the UAE. The WHO Director-General Tedros Adhanom Ghebreyesus had visited hospitals in Kabul earlier where he thanked the UAE for contributing to the welfare programmes in the country.
Related Posts
The first African to be elected as the head of the WHO, Ghebreyesus, was visiting a hospital in the Afghan capital where he said, "We laud the ongoing support facilitated by the UAE, the World Food Programme and UN partners, with this support, we managed to deliver eight separate life-saving shipments of medicines and medical supplies into the country."
The UAE has been extremely active in the crisis prone area and has also become one of the first ones to welcome over 8,000 Afghan refugees as the first contingent on its land. Post this, many other refugees were also taken to the UAE to provide them with a safe and secure environment.
Not only is the nation providing them with a shelter but also welcoming them with open arms making them feel protected. The refugees also expressed joy upon being welcomed with so much warmth to the country.
The country's leadership has also sent tonnes of aid to the struggling nation. The leadership is well aware of the medical emergencies and the deteriorating conditions of the country after the Taliban takeover and hence they are taking every possible step to ensure that medical negligence does not take place. Nations with a larger presence in the country have a lot to learn from the UAE. There are many nations who have control and the power in Afghanistan and yet are not stepping up to help but the UAE's efforts have proven that for it, humanity is the number one ground for help.