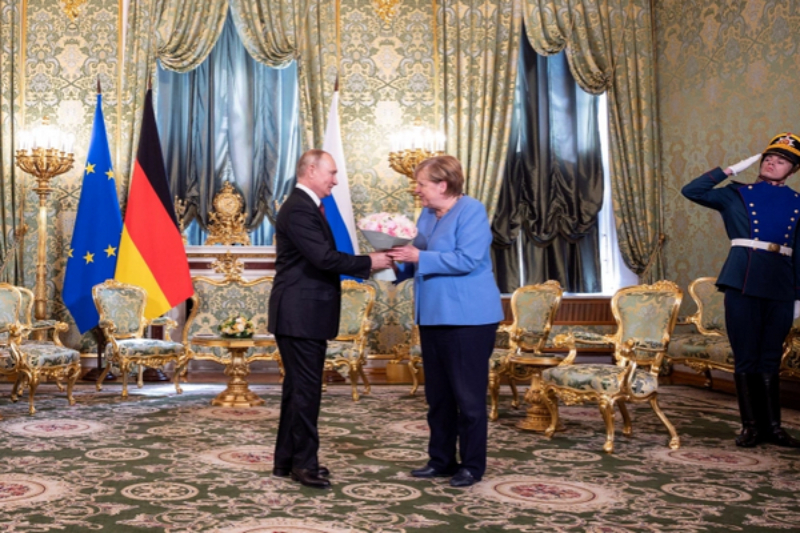 putin markel
Merkel and Putin hold talks in Moscow, at odds over Navalny
German Chancellor Angela Merkel, on Friday, travelled to Moscow for talks with President Vladimir Putin with ties at post-Cold War lows.
This came as her final official trip to Russia as she is set to step down next month after nearly 16 years.
Putin welcomed Merkel with flowers at the Kremlin – an act he reserves for female leaders.
The 67-year-old is ready to bow out of politics after Germany's elections on September 26.
Relations between the two countries soured in 2014 when Russia annexed Crimea from Ukraine – as the step drew broad condemnation and sanctions from the West.
Related Posts
The dialogue between two of Europe's longest-serving leaders matches with the first anniversary of the poisoning of Kremlin critic Alexei Navalny. The incident severely strained Russia-Germany ties.
Navalny was taken to Germany last year after being poisoned with what the West assumed was a military nerve agent. Moscow rejects that accusation and terms this as a Western smear campaign. Navalny was jailed when he flew back to Russia.
🔻
Vladimir #Putin and 🇩🇪 Federal Chancellor Angela Merkel, who is in Russia on a working visit, are meeting in the Grand Kremlin Palace
🔻https://t.co/FNrV3kVkM7 pic.twitter.com/BzFWVAznJD

— Russian Embassy in USA 🇷🇺 (@RusEmbUSA) August 20, 2021
The poisoning of Navalny, Putin's most vocal domestic critic, is likely to rise primarily at their talks.
"Even if we have intense disagreements, we are still talking to one another, and it should stay that way," Merkel spoke to Putin in a televised exchange before the talks.
"We have a great deal to talk about," she added, naming several items on their agenda, including the post-war era of Afghanistan.
Merkel grew up in former Moscow-backed East Germany and can also speak Russian, while Putin, 68, lived in Dresden during the Cold War as a KGB officer and is able to speak German.
"Mrs Merkel is an East German and, with her background, understands better than her predecessors how Russia operates and how Putin works. There always was a matter-of-fact relationship that was based on respect," said Stefan Meister, a political commentator with the German Council on Foreign Relations.