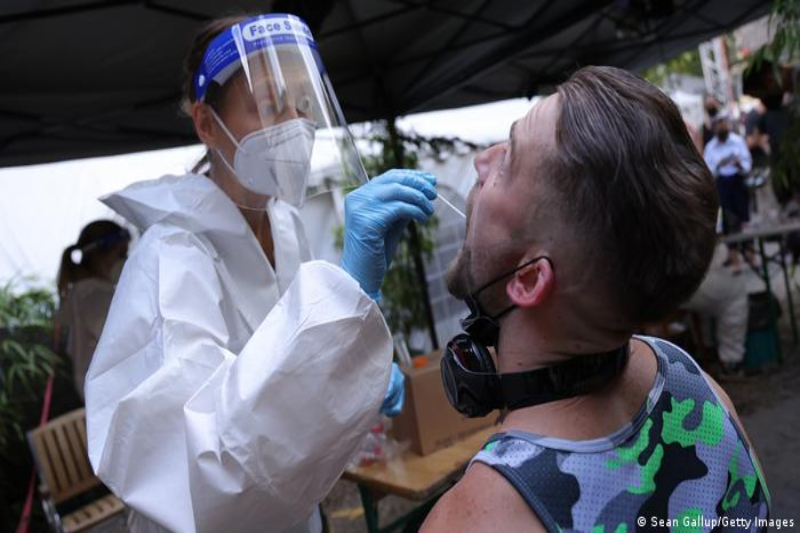 germany coronavirus fourth wave
Germany grappling with the coronavirus fourth wave
In Germany, the health crisis is worrying: despite a vaccination campaign that covers 59.5% of the population (complete vaccination), infections have been on the rise for weeks, and the average weekly incidence (new contagions per 100 thousand inhabitants), which dropped around 6 in June, it has now risen to 23.5, hitting peaks of over 35 in Berlin. Why? The Delta variant has moved herd immunity over 90%.
Also, in Germany, the case of a nurse who in Roffhausen, between March 5 and April 20, 2021, injected a placebo solution instead of the vaccine to 8,857 people, which the health authorities then warned caused a sensation. The nurse would have justified herself by talking about an error (she mentioned replacing the vials, accidentally broken, so as not to make a wrong impression).
In reality, the investigators have unearthed vast propaganda on her social networks aimed at discrediting vaccines. Considerable damage, especially since the "fake vaccine" would have been mainly administered to over 60s. The authorities have again vaccinated 2 thousand people reported, hoping that the case remains isolated. An investigation was then opened to verify that it was not a coordinated action, perhaps patchy, an eventuality that would strain the vaccination campaign.
Related Posts
But it is with the arrival of autumn. There will be a squeeze in Germany: the unvaccinated will have to present a negative swab at every indoor event. From October 11, then, the tampons will no longer be free but for a fee. Thus ends the citizenship buffer: in practice, those who refuse the vaccine will have to bear the costs. That is the most significant point of the package of measures launched by the revived Government-Regions Conference, while the Minister of Health, Jens Spahn, spoke of a fourth wave "of the unvaccinated."
In addition to all this, Angela Merkel decided to reintroduce the distinction between those who are fully vaccinated and those who are not, concerning indoor activities, which is essential to restart activities and events. The obligation to wear a mask on public transport has also been confirmed. At the same time, in commercial establishments, it will still be extended to everyone, even to those who have undergone vaccination or are healed. The latter, however, will enjoy a pass for the internal places of events, museums, cinemas, restaurants and bars, gyms, and indoor sports activities. Just show the European green pass. Furthermore, Germany does not rule out introducing the key for travel between the Laender. It is ready to block the borders again if the infections re-explode in Europe (for example, the situation in Spain, a tourist destination of the Germans, is worrying). In Germany, therefore, everything is ready to face the autumn, trying to avoid new lockdowns thanks to the green pass.