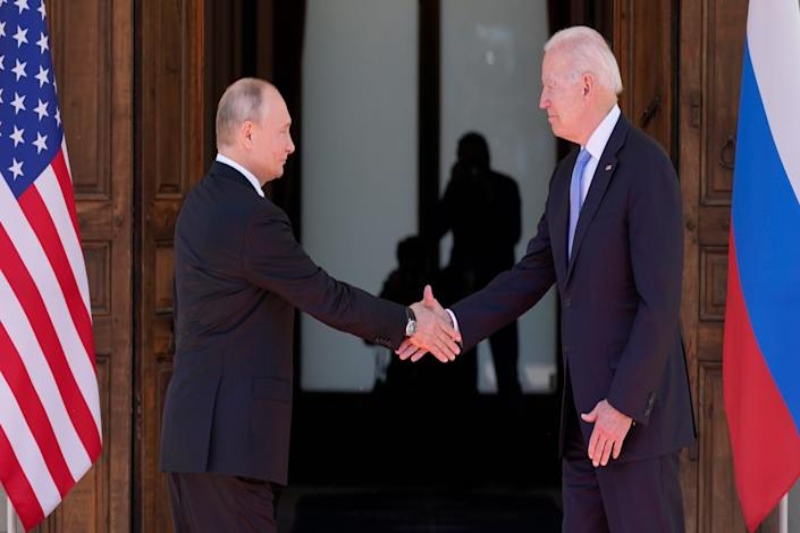 biden and putin (1)
Biden and Putin engage in fervent talks exchanging warnings over rising Ukraine conflict
 In 50 minutes phone call between President of United States Joe Biden and his Russian counterpart Vladimir Putin, there were heated exchanges of warnings over rapidly escalating crisis in Ukraine, but with little achievements to bring down the watershed developments geopolitically. The call between leaders on Thursday was their second engagement this month.
But the talks ended with each leader reiterating their position comprehended into Biden issuing stark warning of imposing strict sanctions if Putin goes ahead with invading Ukraine. On the other hand, Putin warned his US counterpart of repercussions if he engages in the "regional issue". Moscow has raised red flags, sending panic waves amid US and its allies by gathering thousands of troops and heavy artillery near its border with Ukraine for past two months. 
"President Biden urged Russia to de-escalate tensions with Ukraine," said Jen Psaki, the White House press secretary. "He made clear that the United States and its allies and partners will respond decisively if Russia further invades Ukraine." 
According to White House officials, the talks that were requested by Putin, were dominated by POTUS. He is said to have trod on two paths during conversation. In one direction Biden engaged to de-escalate the situation diplomatically, while on other side he cautioned of deterrence that included serious costs and consequences, including economic sanctions, military assistance to Ukraine, and strengthening NATO's presence at the front. 
Related Posts
Putin has reacted strongly to this. Putin's foreign policy adviser said, "He noted that it would be a mistake that our ancestors would see as a grave error. A lot of mistakes have been made over the past 30 years, and we would better avoid more such mistakes in this situation." 
Kremlin has, however, insisted that Putin had called for talks to reinstate his own threats and strong stand on the issue. Putin is said to have warned Biden of repercussions to the colossal mistake and that this would completely unsettle the already strained relations between Moscow and Washington.
Yuri Ushakov, Putin's foreign policy adviser, was quoted saying, "Our president immediately responded that if the west decides in this or other circumstances to impose these unprecedented sanctions which have been mentioned then that could lead to a complete breakdown in ties between our countries and cause the most serious damage to relations between Russia and the west."
The call between world leaders comes ahead of the January 9 and 10 security meeting in Geneva between Russia and United States. This is to be followed by a NATO – Russia session on January 12. Thereafter, a meeting is scheduled for January 13 between US, Russia and European countries. 
Towards de-escalating the situation, Russia has demanded guarantees from US and allies which have been broadly rejected. These include Ukraine never becoming a NATO member.