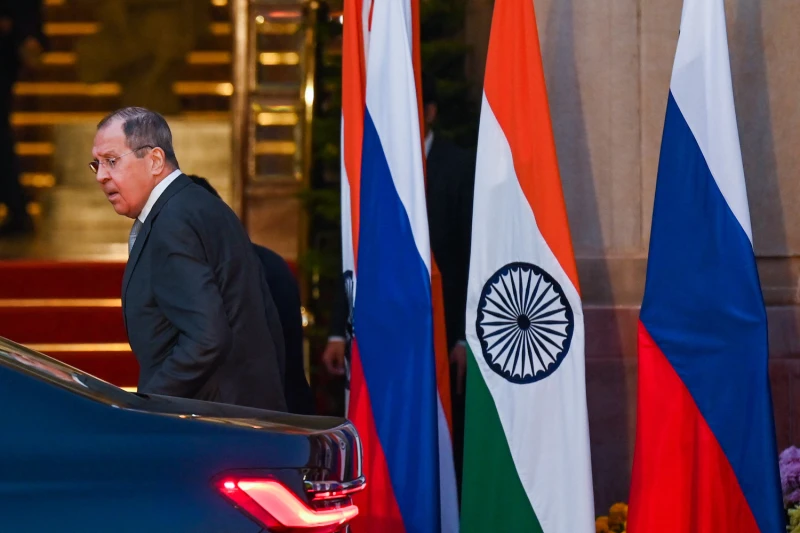 what russian foreign minister lavrovs visit to china and india imply
What Russian foreign minister Lavrov's visit to China and India imply?
Russia -This week marks diplomatic schedule under shadow of ongoing Ukraine war. Foreign minister of Russia, Sergei Lavrov is travelling to China and India to meet his counterparts, the countries that have emerged allies of Russia as the latter invaded Ukraine with the West standing in support of Ukraine. On Wednesday, Lavrov first met with Chinese Foreign Minister Wang Yi. After that he travelled to India on Thursday to meet Indian Foreign Minister S Jaishankar.
Lavrov's meeting with Wang, on paper, is about Afghanistan crisis but it is highly unlikely that Ukraine war was not on the agenda. "It is inconceivable that the sides will avoid Ukraine in their discussions, whatever they say the focus of the visit is about," said Steve Tsang, director of SOAS China Institute at the University of London. Experts are sure that Lavrov's trip will give Russia plenty of opportunity to assess the exact state of relations with India and China as they are under fire from the West for not condemning Russia's attack on Ukraine.
Since Russia began invasion on Ukraine in February end, China has maintained a neutral position. Beijing has neither imposed any sanctions on Moscow, nor has even directly called it an 'invasion'. China has, in fact, blamed NATO and United States for conflict. By the end of Lavrov's first day of visit to China, Beijing had its position very clear. "There is no ceiling for China-Russia cooperation, no ceiling for us to strive for peace, no ceiling for us to safeguard security and no ceiling for us to oppose hegemony," saidChinese Foreign Ministry spokesperson Wang Wenbin,according to state-run news agency Xinhua.
Furthermore, Wang reiterated China's belief that "dialogue and negotiation is the only right way to resolve the Ukraine crisis". He warned the West over aggravating sanctions against Russia, saying it is only "adding fuel to the fire".
Related Posts
Past few years have seen the relationship between Russian President Vladimir Putin and Chinese counterpart Xi Jinping really flourish. In February the two leaders had declared that their relationship has "no limits". The two nations are engaging in joint military training exercises, burgeoning trading partners and have strongly opposed Western interferences into their regional and domestic affairs. But Ukraine war is testing waters for China. Beijing is fearing secondary sanctions from West in case it directly supports or assists Russia. "The war is in a difficult stage for Russia, and I can see that Moscow would like to ascertain the scale of Chinese assistance or support moving forward," said Tsang. "On the China side, I can see Beijing wanting to know what Moscow has in mind as the end game and how (Russia's) plans may impact on China."
"China-Russia relations have withstood the new test of changing international landscape," Wang said after the meeting on Wednesday, reassuring Russia of Beijing's support. "China is ready to work with Russia to take China-Russia relations to a higher level in the new era."
Lavrov is now in India for two days, as part of the second leg of his diplomatic trip. The trip comes at a time of diplomatic flurry with diplomats from Germany and European Union too visiting Delhi this week. Furthermore, the visit by Lavrov coincides with UK's foreign secretary Liz Truss and US Deputy National Security Advisor for International Economics, Daleep Singh.
Despite pressure from US and the European Union, India has refused to condemn Russian invasion. One major reason is that India is highly dependent on Russian weaponry for its own national security. Russia has proved to be supportive to India as the latter steps up to bolster its territorial defense against Pakistan and China. In 2018, India has secured a $5 billion weapons deal with Russia for its air defense missile system.
The testing grounds for relations of Russia with China and India are extremely tricky, but by what it appears now, Moscow has clear allies in Beijing and Delhi.