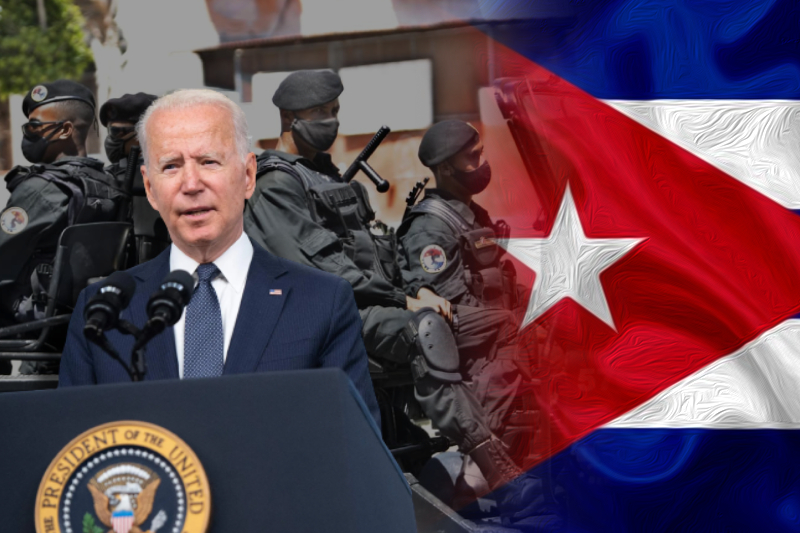 cuba protest
US slaps sanctions on Cuba's security chief over human rights abuses on protests
Cuba's communist government had imposed severe crackdown on anti-government protests, threatening human rights of the protesters in the biggest demonstrations in the country in decades. United States of America has imposed sanctions at Cuban security minister and an interior ministry special forces unit for carrying out human rights abuses against backdrop of protests.
This is also the first major step taken by Biden administration to pressurize Cuba's government, reiterating calls from Cuban American community and US lawmakers to support the protests across island.
Biden in no mood to go softer on Cuba
The sanctions and the rapidity of them is indicative that Biden may not go easy on Cuba, very much like his predecessor Donald Trump. "This is just the beginning," Biden said in a statement.
"The United States will continue to sanction individuals responsible for oppression of the Cuban people," he said.
Bruno Rodriguez, Foreign Minister of Cuba, took on to Twitter to share his displeasure on US's action. He expressed his rejection of sanctions calling the allegations "unfounded and slanderous". He in turn asked US to apply the sanctions on itself for "systematic repression and police brutality".
I refute the unfounded & slanderous US gov. sanctions against Army Corp Gral Alvaro López Miera and the National Special Brigade.

It should rather apply unto itself the Magnitsky Global Act for systematic repression & police brutality that took the lives of 1021 persons in 2020.

— Bruno Rodríguez P (@BrunoRguezP) July 22, 2021
The sanctions have been imposed on an entire interior ministry security unit and on Gen Alvaro López Miera, minister of the Revolutionary Armed Forces. The US treasury department described him as leader of an entity "whose members have engaged in serious human rights abuse".
White House said that it is looking at ways to ease humanitarian plight of people of Cuba. On Thursday President Biden said that the government is looking ways to help Cuban people regain access of internet services after Havana restricted social media and messaging platforms access.
Related Posts
"We will work closely with our partners throughout the region, including the Organization of American States, to pressure the regime," Biden said.
Cuba's historic protests against communist government
Last week thousands of Cubans took on to streets protesting against economic crisis in the country led by power outages and lack of basic goods. Hundreds of activists were detained as they also protested over curbed civil freedom in the country.

The sanctions are imposed under Global Magnitsky Act that is used to punish violators of human rights. The sanctions include freezing of US assets and ban on travel to US.