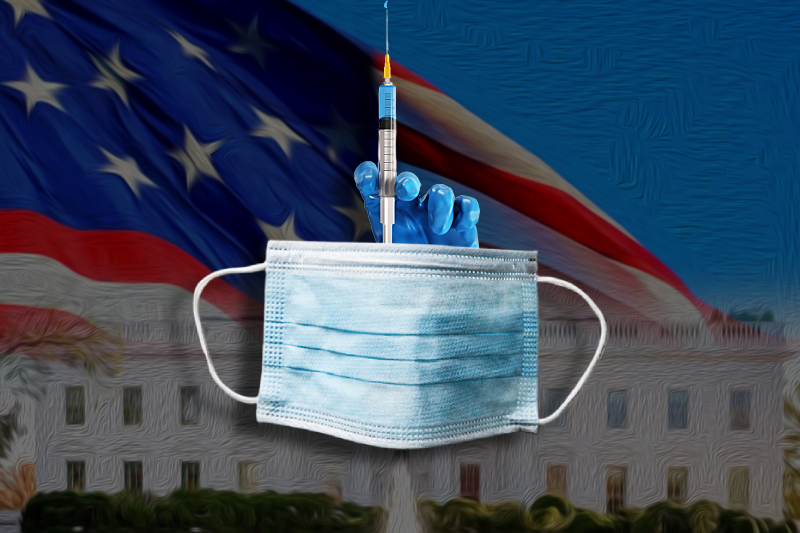 us mask vaccine
US celebrates 4th of July sans mask or vaccine mandate as nation stares at gnawing Delta variant concerns
Sunday was celebrated across the United States of America as country's 245th Independence Day with skies lit by fireworks, streets adorned by marching bands as the Americans relished the favorite hotdogs. This year was a big sigh of relief after last year's cancelled celebrations due to coronavirus pandemic. But even though Biden administration is stressing the people to get vaccinated at earliest possibility to control the possible surge of Covid-19 cases as Delta variant continues to spread like wildfire across the globe, no such mandate was there for the big White House party.
Masks and vaccination against Covid-19 were not mandatory for a White House party on Fourth of July, a clear confusion for many. Jeff Zients, coronavirus coordinator for Biden administration sought to give an explanation, "You're protected if you're vaccinated. You're not protected if you're not. We are not mandating vaccines." "At the White House tonight, there's very rigorous testing and screening protocols. Those who are vaccinated do not need to wear a mask. Those who are unvaccinated do need to wear a mask," he added.
When asked why vaccination was not mandated for the occasion, Zients said, "At the end of the day, it's an individual choice. We hope all individuals make the right choice here and get vaccinated as soon as possible."
Over 1000 people were invited by President and First Lady Dr Jill Biden to their Fourth of July celebration in White House South Lawn. A day before Biden was seen meeting mostly maskless people at Michigan's cherry picking festival. "We're there to celebrate frontline workers and our military," Zients said. "And these are people who understand the importance of safety and doing the right thing. I think most of these folks are vaccinated, and we encourage all Americans to get vaccinated as soon as possible."
In the biggest White House party yet to mark Fourth of July celebration, President Joe Biden touted country's progress against the pandemic. He said, "Today, all across this nation we can say with confidence America is coming back together."
"Together, we're beating the virus. Together, we're breathing life into our economy. Together, we will rescue our people from division and despair. But together, we must do it. Over the past year, we've lived through some of our darkest days," he said. "Now I truly believe — I give my word as a Biden – I truly believe we are about to see our brightest future. Folks, this is a special nation."
Zients was also seen explaining the White House party's whereabouts at ABC'S This Week, "The event at the White House is being done in the right way. It's an outdoor event with testing and screening. Vaccinated people not wearing masks. Unvaccinated people masked. It's being done in the right way, consistent with [Centers for Disease Control and Prevention] guidelines. That said, we are doubling down on our efforts across the summer months, we will vaccinate millions more people because you need to get vaccinated to be protected against the Delta variant and against this disease overall."
Chief Medical Adviser Dr Anthony Fauci has warned of possible spikes of Delta variant in pockets having low vaccination rates, primarily in Republican areas who are showing resistance to vaccination.
Related Posts