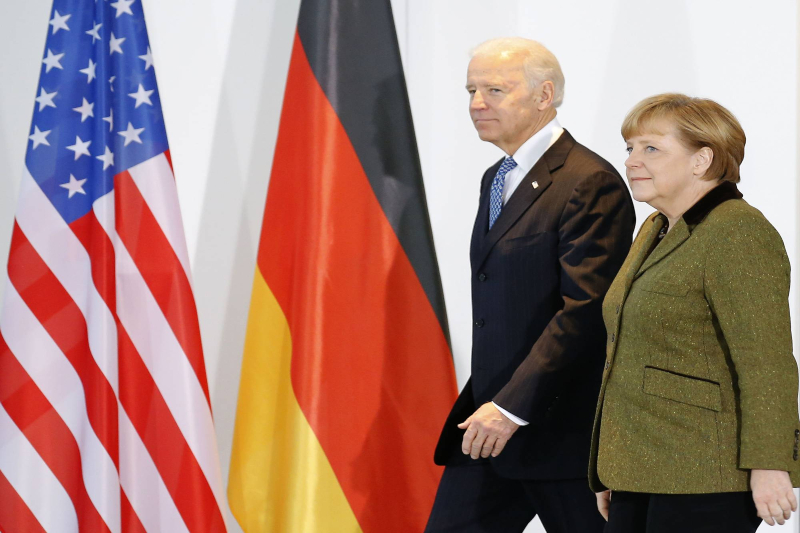 biden markel
Biden set to host Merkel on Thursday
US President Joe Biden is all set to host a meeting with German Chancellor Angela Merkel on Thursday, next week, in a bid to reaffirm "deep and enduring" ties between the NATO allies.
As per a statement released by the White House on Friday, the meeting will work upon tackling some areas of disagreement between the two nations.
This will be Merkel's first visit to Washington during Biden's era, and likely her final US visit in her long era as chancellor.
Merkel is not soliciting the fifth term, and elections to replace her are to be held in September. She will have worked with a total of four US presidents over her tenure.
Related Posts
Jen Psaki, a White House spokeswoman, said the two leaders are to discuss ransomware attacks that have hit companies in the US and around the world, as well as the issue of the Nord Stream 2 gas pipeline from Russia to Germany – which Washington opposes.
Biden terms the $11 billion Nord Stream 2 pipeline as a "bad deal", but the US hasn't said if an agreement could be struck to stave off the resumption of momentarily suspended US tariffs on Nord Stream 2 AG, the German firm behind the pipeline, and its chief executive.
Psaki said the "official working visit" is aimed at shoring up the cooperation between the two nations and identifying ways to further strengthen their bilateral ties.
Furthermore, a range of common challenges – including addressing the COVID-19 pandemic, the threat of climate change, and elevating economic prosperity and international security based on shared democratic values – are also set to be discussed.
On July 2, 2021, Biden named Amy Gutmann as the latest US ambassador to Germany. She is the first female US ambassador to Germany and is the daughter of a Holocaust survivor.
Her appointment is aimed to revive a dormant, but long-standing, US tradition of sending university presidents and scholars as ambassadors to Berlin.