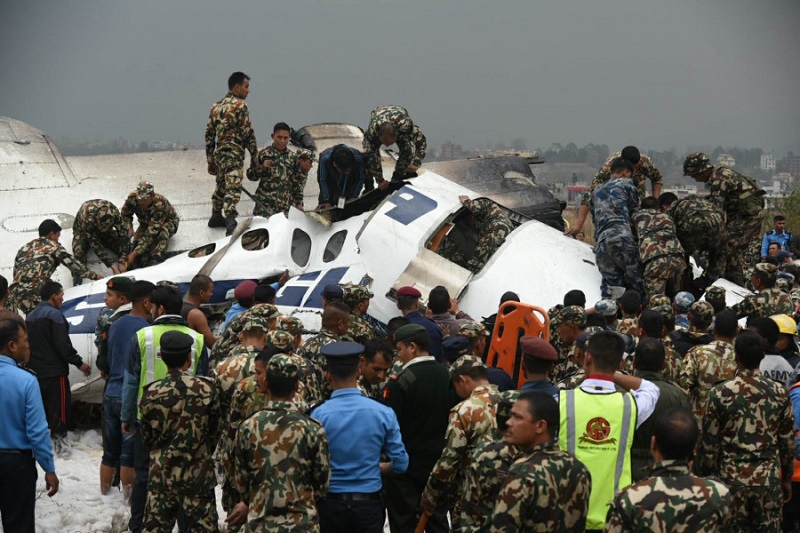 nepal plane crash all onboard suspected dead search operation continues
Nepal plane crash: All onboard suspected dead, search operation continues
A day after the Tara Airlines plane with 22 passengers on board crashed into a mountainside in Nepal, the Home Ministry of the Himalayan nation has issued a statement saying that all passengers are feared dead.
"We suspected all the passengers on board the aircraft have lost their lives. Our preliminary assessment shows that no one could have survived the plane crash, but official statement is due," Phadindra Mani Pokhrel, Spokesperson of Nepal's Home Ministry was quoted as reported by news agency ANI on Monday.
As per media reports, rescuers have pulled out at least 14 bodies from the wreckage of the crashed plane in the Mustang district in northwestern Nepal.
Speaking to ANI, Ram Kumar Dani, DSP of District Police Office, said that locals from Titi district called and informed the police about hearing an unusual sound from the region, following which helicopters were deployed in the area for a search operation. Nepal Army Spokesperson Brigadier General Narayan Silwal took to Twitter to provide an update on the missing plane.
"The search and rescue troops have physically located the plane crash site. Details will be followed," he wrote on the social media platform.
Search operation continues
The Nepali army spokesperson further stated that a team of 15 soldiers has been sent to near the crash site, which lies at an elevation of about 14,500 feet, to retrieve the bodies.
Related Posts
"Fourteen bodies have been recovered so far, search continues for the remaining. The weather is very bad but we were able to take a team to the crash site. No other flight has been possible," civil aviation authority spokesman Deo Chandra Lal Karn informed news agency AFP.
As per the list of passengers issued by the airline, the Tara Air's turboprop Twin Otter 9N-AET aircraft was carrying 13 Nepali passengers, four Indian nationals, and two Germans along with the four-member Nepali flight crew. The flight crew members have been identified as Captain Prabhakar Ghimirele, flight operator Kismi Thapa, and crew members, Arka and Utsav Pokharelle. The plane was travelling from the city of Pokhara to Jomsom in Nepal. Reportedly, the plane accident took place due to bad weather conditions in the region.