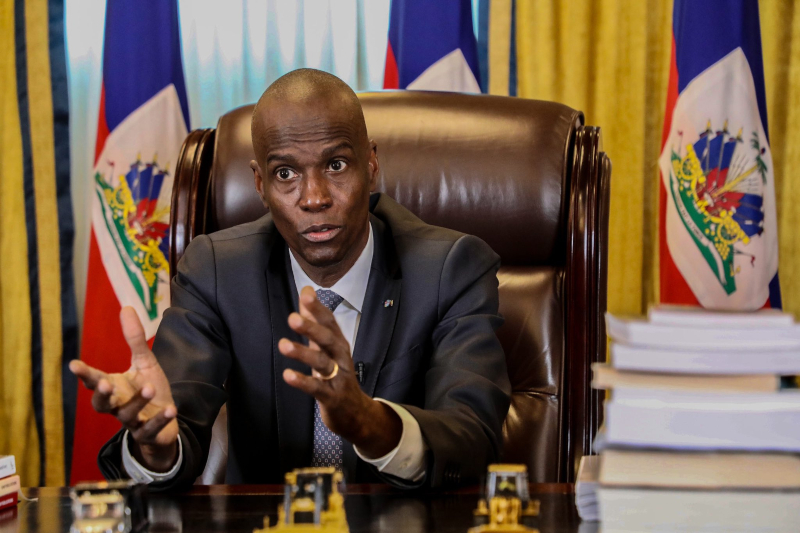 haiti president jovenel moïse
Haiti: Chaos spreads after police gunfight with suspected killers of President
The president of Haiti, Jovenel Moïse, was shot dead in his home by a group of armed men who also injured his wife, as per a statement made by the country's interim prime minister on Wednesday.
While speaking to a local radio station, Claude Joseph authenticated that Moïse, 53, had been killed, saying the assault was carried out by an "armed commando group".
He, later on in a televised national address, declared a state of emergency across the country and made a call for calm, saying that the sitch was under control.
Frantz Exantus, Haiti's communications secretary, said police had caught the "presumed assassins", but did not provide further details about the assassination or how many suspects had been arrested.
Officers, who were fighting with the group – as per the police chief's statement – had shot four dead and another two arrested.
Police General Director Leon Charles said in his televised comments that security forces would not stop until they had all been dealt with.
I spoke today with Acting Prime Minister @claudejoseph03 to extend condolences on the death of President Moïse and express our wishes for First Lady Martine Moïse's recovery. The United States remains firmly committed to supporting peace, democracy, and security in Haiti.

— Secretary Antony Blinken (@SecBlinken) July 7, 2021
"We tackled them en route as they left the scene of the crime," he said. "We have been battling with them since then."
"They will be all killed or apprehended."
Haiti's security forces engaged in a fierce gun battle with assailants who assassinated the President at his home overnight. The killing has plunged the already impoverished, violence-wracked country deeper into chaos.
I strongly condemn the appalling assassination of President Moïse this morning. Canada stands ready to support the people of Haiti and offer any assistance they need.

— Justin Trudeau (@JustinTrudeau) July 7, 2021
Moise, a 53-year-old former businessman, took office in 2017, was shot dead and his wife, Martine Moise, was severely wounded when heavily armed assassins stormed their home in the hills above Port-au-Prince at around 1 a.m. local time.
Bocchit Edmond, Haiti's ambassador to the United States, told the press that the gunmen were masquerading as US Drug Enforcement Administration (DEA) agents.
"Everything that could go wrong went wrong," said an expert on Haitian politics, Robert Fatton.
Related Posts