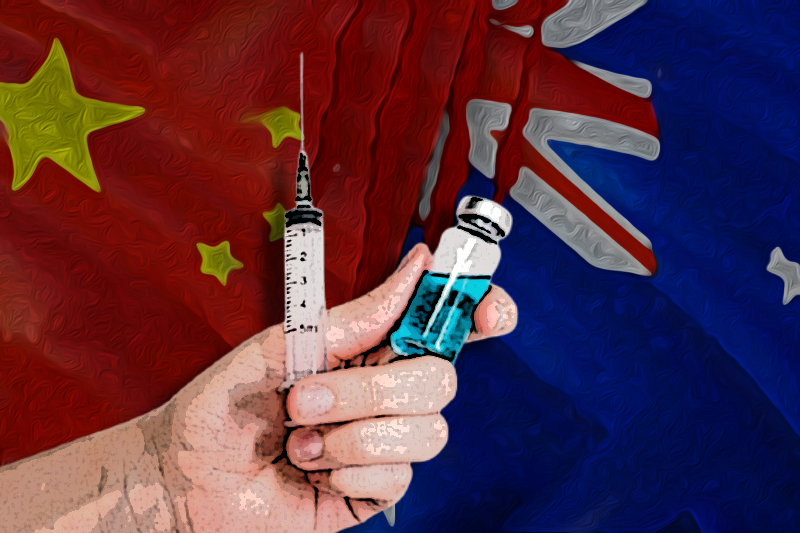 china accuse australia vaccine
New bump in Pacific geopolitics as China accuses Australia of "vaccine sabotage" in the region
Pacific region has been the centre of regional geopolitics since years now as China and Australia battle out to tamper each other's influence in the region. Moving forward from beef and lobsters as contention points, now it is Covid-19 vaccines. The continuing economic and diplomatic row between the two countries has now reached the vaccine aid to the developing countries in Pacific region – Papua New Guinea is the centre stage of row.
Aid to Papua New Guinea
Just like many developing nations across the world, Papua New Guinea had raised flag for international assistance as the pandemic struck. The rivals, Australia and China too had extended pandemic aid to the island. China recently attacked its adversary accusing it of "vaccine sabotage" in Papua New Guinea, trying to block use of Chinese Sinopharm vaccine.
Graeme Smith, a fellow at Australian National University's Department of Pacific Affairs said, "This is consistent with a pattern that has emerged over the last couple of years. Portraying Australia as not on the side of the Pacific is now part of China's playbook." This allegation by China highlights tense geopolitics in the Pacific region.
Australia has provided Papua New Guinea 28,000 AstraZeneca vaccines since March. It has also contributed to WHO's initiative of global vaccine alliance, COVAX. China, on the other hand, has provided the island with 200,000 doses of Sinopharm vaccine, but delivery was delayed to June. This was because of delay in WHO's approval of the Chinese vaccine.
China's accusations of Australia being politically manipulative
Last month, CCP (Chinese Communist Party) English newspaper Global Times accused Australia of vaccine sabotage, and claimed that it was "threatening senior officials from welcoming Chinese vaccines." Later China's Foreign Ministry spokesperson Wang Wenbin said "Australia is taking advantage of vaccine issues to engage in political manipulation, bullying, coercion [and] being callous to the life and health of the people in Papua New Guinea."
Australia's minister for international development and the Pacific, Zed Seselja has rejected all accusations. He said, "Public health is a global shared interest. Decisions about vaccine approval and usage are sovereign matters for the countries in which they are used."
Stakes in the Pacific region
China, in the last 20 years has been trying to build its strong presence and influence in the Pacific region where it earlier had no virtual presence. But now China has evolved to become third largest donor in the region. "China's presence has expanded rapidly, which is completely in line with what is happening everywhere else in the world," Smith said.
The Pacific region that is build of over a dozen islands spread across thousands of square miles of ocean, is of strategic importance. Australia is by far the largest Covid-19 aid donor in the region and plans to deliver up to 15 million doses by mid 2022.
Smith of Australian National University said, "The real concern that actually keeps [some Australian officials] up at night is the possibility — as yet completely unproven — that China might decide to build a military base in the Pacific," he said. "That would completely change Australia's strategic environment."
Pacific region is not the only cause of rift between Australia and China. One of the reasons is Australian intelligence that had early on identified China based tech giant Huawei as a security threat. Also, Morrison government had called on earlier for an independent inquiry into origin of Covid-19. These were enough reasons to get on bad side of China's president Xi Jinping who has always blamed West for being unfair to China's image depiction.
Related Posts