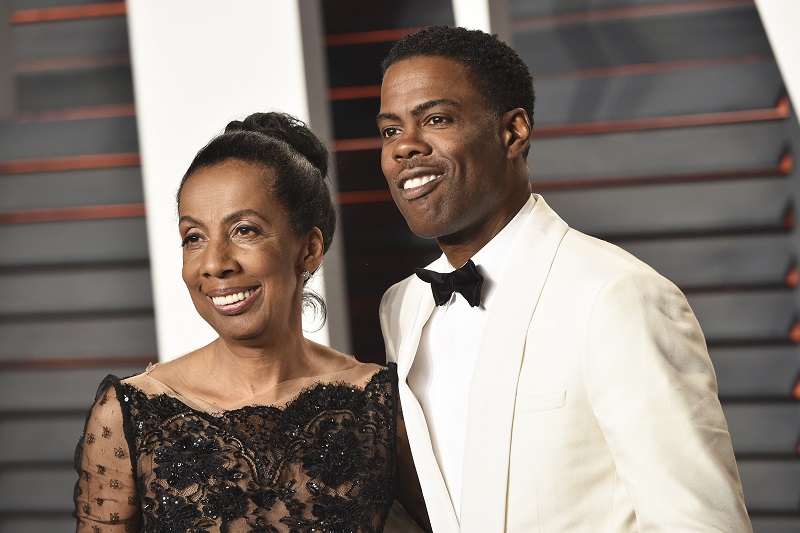 2016 vanity fair oscar party hosted by graydon carter arrivals
Chris Rock's mom finally reacts to Will Smith's slap
Chris Rock's mom, Rosalie "Rose" Rock, has finally addressed Will Smith's infamous slap at the Oscars 2022.
"When Smith slapped Chris, he slapped all of us," she told a South Carolina news station on Friday. This was her first interview since the incident on March 27.
"He actually slapped me. Because when you hurt my kid, you hurt me."
The South Carolina native, 77, said that like many viewers at home, she also thought the televised slap was staged.
Rosalie said it wasn't until Smith used obscenities directed at Chris that she realised the bit wasn't fake.
Rosalie was asked in the interview what she'd like to say to Will Smith if the two were able to have a conversation.
"I have no idea what I would say other than, 'What in the world were you thinking? Because you did a slap, but so many things could have happened from that,'" she explained. "Chris could have stepped back and fallen, and you really could have gotten taken out in handcuffs. So, you didn't think so."
Related Posts
Recalling the incident, Rosalie said Smith made his wife Jada Pinkett Smith's day.
"No one was listening to his speech. No one was able to catch the moment because everyone was wondering 'What just happened?'"
"She was laughing when it happened," Rosalie said, referencing her son's ill-fated joke about Jada Pinkett's shaved head.
Rosalie told the outlet that Rock was doing well but "still processing" everything that happened.
It must be remembered that Smith stormed the stage and slapped Chris after the comedian quipped, "Jada, I love you, 'G.I. Jane 2,' can't wait to see it."
Pinkett – who has been quite vocal about her struggles with alopecia – laughed before her husband approached the stage and shouted, "Keep my wife's name out of your f–king mouth."