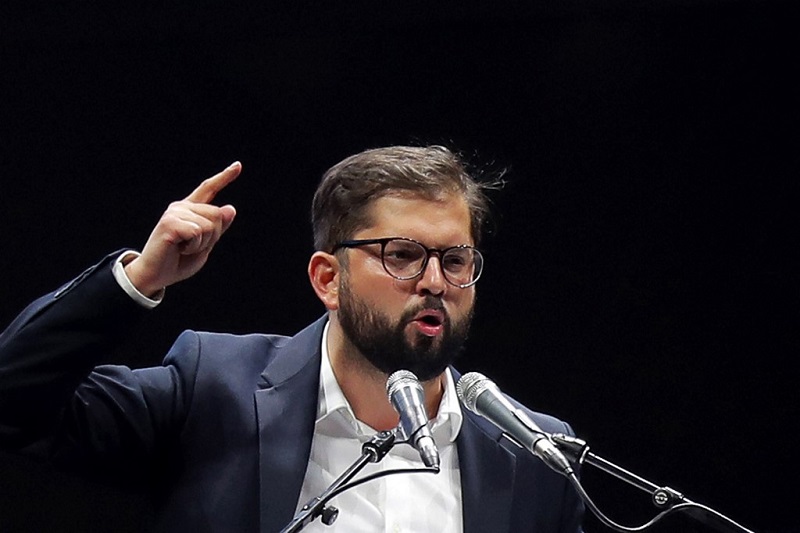 chile swears gabriel boric as new president
Chile swears Gabriel Boric as new President
Chile -Chile has sworn in Gabriel Boric as its President, its youngest-ever.
Boris is a former student activist who takes the reins when the South American nation is undergoing a social and political transition.
At the Congress in the port city of Valparaiso, Gabriel Boric took the presidential sash on Friday. He took over from outgoing billionaire President Sebastian Pinera.
Boric, 36, is taking over a country that has been seeking a change since 2019's mass protests. Boric was the face of these protests against deep-rooted inequality in healthcare, income, education and pensions.
He will oversee a referendum on a fresh Chilean constitution, which is currently being rewritten to replace Augusto Pinochet's, Magna Carta.
Boric is heading a feminist, environmentalist government that would try to bring a historic social change. His cabinet is primarily full of young people who aren't much experienced in government but certainly have big plans for the country.
Related Posts
Boric faces a raft of challenges ahead, ranging from an economic slowdown and high inflation to a split legislature that will test his managerial abilities. Boric will push for reforms in pensions and healthcare while toughening environmental regulation.
The new President would have to combat a rising ultra-conservative bloc that performed well in elections last year. The challenge for Boric would be to find consensus to push through his reforms. "There are herculean tasks lying ahead of Boric," an observer added.
Boric will be under pressure to keep the economy humming as he strives for ambitious tax reforms to finance salary adjustments, health system reform, and pension overhaul.
His tax reforms aim to spike collection by five points of GDP in four years, with fewer tax breaks and increases for companies and mining, 'green' taxes, and wealth levies.
Boric has also pledged strong environmental regulations. It is pertinent to state that Chile is the world's second-largest lithium producer and largest copper producer.