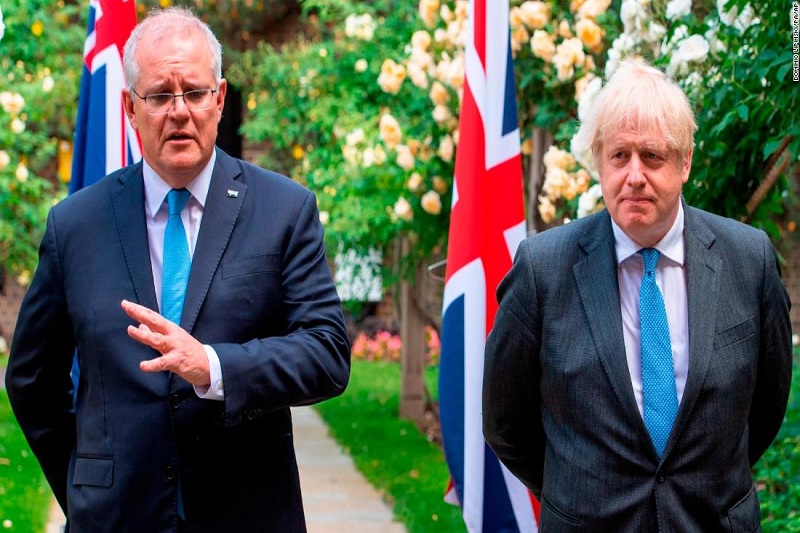 australian office might have pushed britain to drop paris agreement out of its free trade deal
Australian Office Might Have Pushed Britain To Drop Paris Agreement Out Of Its Free Trade Deal
Australia might have actually pushed the UK to drop key climate commitments in order for their Free Trade Agreement to come through. Leaked emails are indicating that indeed the Morrison government might have pushed Boris Johnson to do the inevitable.
According to media reports, Australian PM Scott Morrison might have insisted that the "reference to Paris Agreement temperature goals" be removed from the text of the trade deal. This comes across as a shock owing to the seriousness behind bringing down carbon emissions rates worldwide.
This also comes as a stark contrast to what was actually agreed between the European Union and the UK; where temperature commitments are top priority. In fact, it was taken so seriously, that deviation from terms put down according to the Paris Agreement, would lead to the suspension of the deal itself. But this does not seem to be the fate of doing business with Down Under for Britain.
After the Brexit, Britain has been forced to scout for trade partners and fill in their self-created gaps with their EU partners gone. Certain emails obtained by Australian and British media agencies claim that Liz Truss, the UK trade secretary, and Kwasi Kwarteng, the UK business secretary, had decided the government could "drop both of the climate asks" from the deal.
Related Posts
There may be some semblance of truth here. According to another email from the Cabinet Office, "We haven't yet seen the formal read out, but we understand the conversation took place and the Business Secretary has agreed that, in order to get the Australia FTA over the line, DIT can drop both of the climate asks (i.e., on precedence of Multilateral Environmental Agreements over FTA provisions and a reference to Paris Agreement temperature goals.)"
The Paris Agreement makes countries set goals in order to limit global warming to well below 2C, preferably to 1.5C. These mails may not have been finalized but do show a sense of non-seriousness towards the urgency to cooperate with the Paris Agreement. It is also a reason for the 10 Downing Street to feel embarrassed; owing to the fact that UK is going to be the venue for the next COP Climate Change meet slated in October this year.
The email surfaced in August, three months after Australia and UK have shaken hands over their promising Free Trade Agreement. Australian PM Scott Morrison has not shown any promising initiatives towards meeting temperature control norms, despite being a member who signed the Paris Agreement. The desire to drop temperature considerations also comes after they have agreed in writing to work towards strengthening inter-country ties.