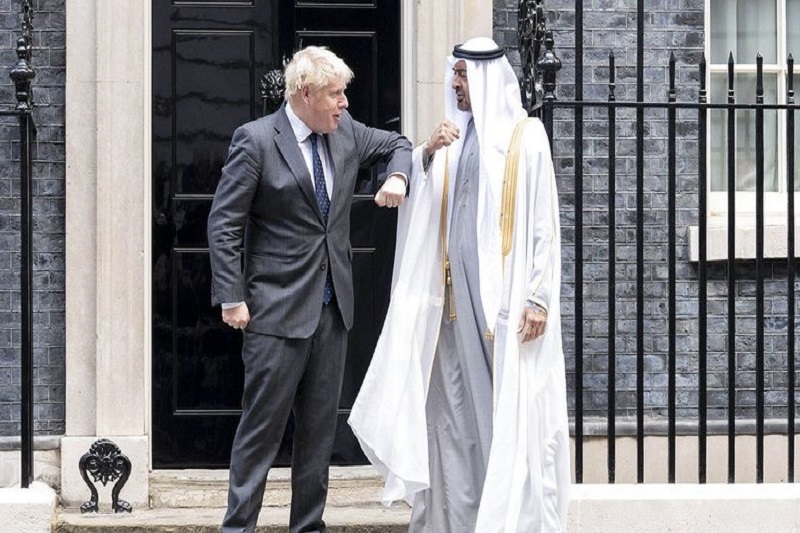 sheikh mohameds britain visit strengthen uae uk sovereign investment partnership
Sheikh Mohamed's Britain Visit Strengthen UAE-UK Sovereign Investment Partnership
Sheikh Mohamed bin Zayed Al-Nahyan, Crown Prince of Abu Dhabi, recently paid an official visit to the United Kingdom with the aim of strengthening the strategic cooperation between the two nations.
As part of this visit, the UAE announced plans to invest 10 billion pounds ($13.8 billion) in Britain's business sector over the next five years. The announcement came in line with the agreement signed between Abu Dhabi sovereign wealth fund "Mubadala" and UK's Office for Investment (OfI) to expand UAE-UK Sovereign Investment Partnership.
Sheikh Mohamed and British PM Boris Johnson welcomed the signing of the partnership agreement between the two sides. According to a statement issued by Mubadala, the UAE will be investing in Britain's energy transition, technology, infrastructure and life sciences to expand the Sovereign Investment Partnership with the UK.
"Today's expansion of our Sovereign Investment Partnership will help accelerate funding and innovation in key sectors that are foundational to the economic growth of both nations," Mubadala's Managing Director Khaldoon Mubarak said in the statement.
Related Posts
Taking to Twitter, Abu Dhabi Crown Prince expressed pleasure in meeting British PM Boris Johnson at 10 Downing Street in central London. During the meeting, the two leaders reviewed their cooperation and flourishing opportunities to strengthen key areas of investment, economy and trade. They also discussed potential ways to tackle regional and international issues of mutual interest.
"We discussed the importance of peace and stability in the Middle East and also strengthening and developing the relationship between our two nations," he posted on social media.
Welcoming Sheikh Mohamed to the UK, British PM Johnson hailed the strong support shown by the UAE in enhancing the relations between the two nations. He also underlined the special importance shared by the UK to fostering enhanced ties with the UAE as part of the "Partnership for the Future" initiative.
As per a WAM statement, Sheikh Mohamed also expressed confidence in Britain's participation at the Expo 2020 Dubai that will facilitate more opportunities for economic and development partnership between the two countries.
Ahead of the UK visit, Sheikh Mohamed visited France and held a bilateral meeting with French President Emmanuel Macron.