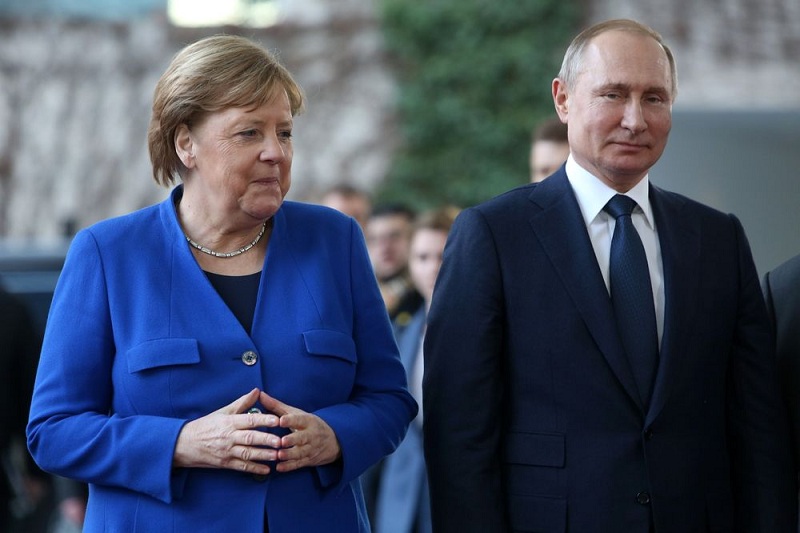 bringing balkan states is in eus best geo political interest angela merkel german chancellor
Bringing Balkan States Is In EU's Best Geo- Political Interest: Angela Merkel, German Chancellor
Serbian President Aleksandar Vucic understood the outgoing German Chancellor Angela Merkel pretty well as she stressed on how important it was for Balkan states to come and work together. While speaking in the Serbian capital of Belgrade at a joint news conference she said that it was entirely in the 'an absolute geo-strategic interest for us to really include these countries into the EU.' Merkel is aware and didn't mince her words when she said there were other suitors eyeing these nations.
It was therefore imperative for the European Union to move in quickly and integrate with these nations. The Western Balkan states — which include Serbia, Bosnia, North Macedonia, Albania, Montenegro and Kosovo — have for decades sought EU membership. But due to the bloc's stalled interest in enlargement and the years of diplomatic crises the EU faced as Britain left the bloc, those Balkan nations have been left to seek other alliances, including with Russia and China.
Related Posts
Vucic praised Ms. Merkel's stand though he is known for his autocratic leadership that has throttled independent media, stalled the rule of the law and interfered in fair and free elections. However, he continues to be a great admirer and proponent of Merkel. As Merkel's leadership stands, she is always able to find a silver lining in the most negative situations too.
She has never spoken ill of Vucic publicly because she continues to believe he can be the only bridging gap between a few Balkan states. He seems to be the only one who can bring Kosovo, a breakaway from the former Serbian province whose independence Serbia and its allies Russia and China don't recognize, while the U.S., Germany and most of the West do.
Merkel is considered one of the most powerful women politicians in the world. A theoretical quantum chemist from the former East Germany, she will stand down after federal elections on 26 September, 2021.