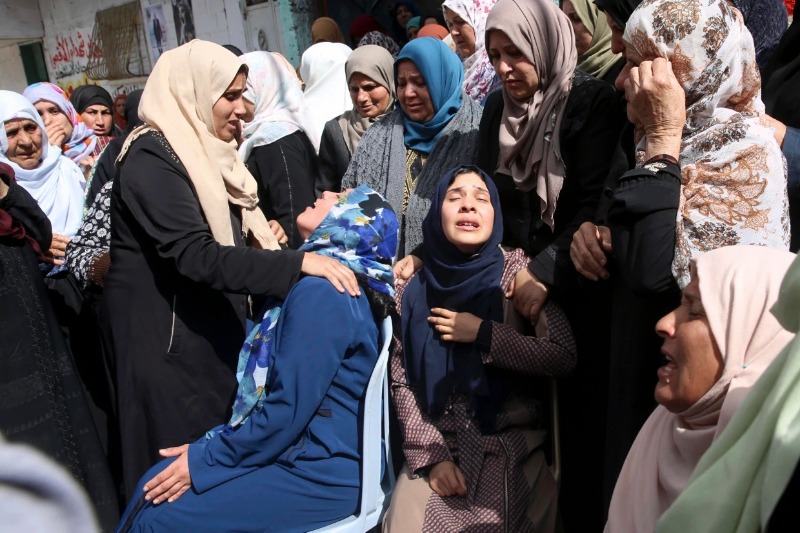 women and girls in gaza cant get away from violence
Women and girls in Gaza can't get away from violence
Soon after being married in the Gaza Strip, Istabraq Baraka, a teenager, became pregnant. Her husband killed her after three months of marriage.
According to Nazmiya, her mother, "She died from a brutal beating, which caused blood on the brain and lungs and fractured ribs."
The 53-year-old woman sits with her husband Suleiman in a garden in Abassan, close to the city of Khan Yunis in the south of the Palestinian state, and speaks at a breakneck pace about the murder of one of her two daughters the previous year and the death of an unborn granddaughter.
The father of our protagonist, Istabraq, dabbed his eyes with the corner of his red and white keffiyeh.
Given that his daughter's husband turned himself in to police quickly after the murder, he is frustrated by the slow pace of legal processes.
The 70-year-old man added, "The culprit admitted his crime, and up until now, nothing has happened."
Palestinian civil society organization Women's Centre for Legal Aid and Counseling reports that femicide is on the rise in Gaza.
There were six homicides and other deaths attributed to domestic abuse reported to the organization in 2019, and 19 the following year.
According to UN Women, the "lockdown of survivors of violence with their abusers" occurred in 2020 when the coronavirus pandemic broke out.
Lawyer Ayah Alwakil of the Palestinian Centre for Human Rights stated that in the patriarchal society of Gaza, which has been ruled by the Islamist party Hamas since 2007, women should expect violence from their spouses.
Because of a lack of family support, "some women don't know their rights and some others are reluctant to go to court," she said.
While the Palestinian Central Bureau of Statistics reported that 38% of women in Gaza experienced physical or psychological violence from their husbands in 2019, Alwakil believed the number to be much higher.
Related Posts
If a man is found guilty of murdering his wife, he could be sentenced to life in prison or even the death penalty. A person's punishment is lessened if they conduct an "honor killing," in which a family member is killed because they are seen as a disgrace to the family.
These "outdated and discriminatory laws" are said to be a barrier to justice by the United Nations Women.
Also, people who try to get away from abusive partners often end up leaving their kids behind.
When a daughter becomes 11 or a son turns 9, custody is automatically awarded to the ex-husband in a divorce where the woman is the petitioner.
Because they had four kids together, 31-year-old Noha Khaziq stuck with her abusive husband.
Back in February, he had her murdered.
"Her husband had her tied up and locked in the house so that she couldn't get away. She was already dead when he got back," Abdelaziz, her brother, who has the same green eyes as his sister, said it this way.
Five months after the horrible act, the 28-year-old woman said, "We are satisfied with the death sentence verdict against the husband, but we want the penalty to be enforced soon."
Since Noha was murdered, her family has not seen her children, as custody was given to the father's side of the family.
Women escaping violence in the Palestinian enclave of Gaza have had a nearly hard time of it since the Israeli-led blockade began 15 years ago.
Only two specialized refuges can accommodate the roughly 40 women who live in this zone.
A woman with bruises covering one side of her face sat in a corner when AFP visited one of them. Rather than lose custody of her kids, she was on the verge of returning to her husband.
A spokesperson for the social development ministry, which oversees one of the shelters, Aziza Elkahlout, stated, "The law is not on women's side all the time in the Gaza Strip."
She blamed the Israeli siege for the appalling conditions in Gaza, saying, "We thought of opening the safe house because of the injustice women are exposed to."
Suleiman Baraka, however, believes the government bears some responsibility for the death of his daughter and rejects this explanation.
Istabraq's father claimed that the government aided his son's criminal behavior because it did not make any snap choices.
The photo of him and his two daughters that is currently displayed on his phone's screen serves as a constant reminder of his daughter.
Even though it's been over a year since Istabraq was murdered, he still thinks the legal system is too slow.