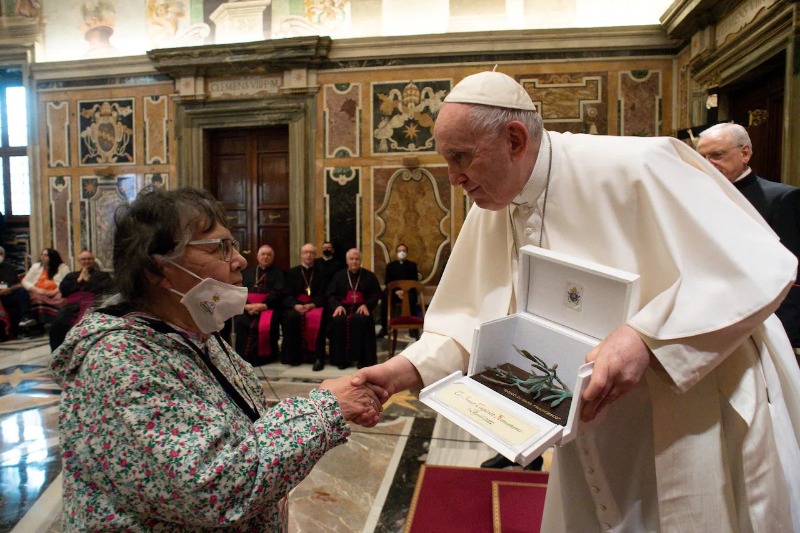 pope francis canada journey to fix indigenous school scandal
Pope Francis' Canada journey to fix Indigenous school scandal
On Sunday, July 24, Pope Francis will travel to Canada to apologize in person to indigenous people who endured decades of abuse at Catholic Church-run residential schools.
Canadian Prime Minister Justin Trudeau will be waiting for the Pope when he lands from Rome at Edmonton International Airport. The Pope is the spiritual leader of the world's 1.3 billion Catholics.
With knee discomfort limiting his mobility, the 85-year-old pope has been using a cane or wheelchair in his recent public appearances. The 10-hour flight will be his longest since 2019.
A national truth and reconciliation commission has described the issue surrounding the Catholic Church in Canada as "cultural genocide," prompting Pope Francis to visit the country on a "penitential journey" of "healing and reconciliation."
About 150,000 First Nations, Metis, and Inuit children were separated from their families and culture when the Canadian government transferred them to one of 139 residential schools sponsored by the Church between the late 1800s and the 1990s.
Many were physically and sexually molested by headmasters and teachers.
Thousands of youngsters are said to have perished of sickness, starvation or neglect.
Related Posts
Over 1,300 unmarked graves have been uncovered at the locations of the defunct schools since May 2021.
A group of Native Americans visited the Vatican in April to meet with Pope Francis ahead of his own six-day visit.
In the village of Maskwacis, roughly 100km south of Edmonton, the pope will address an estimated gathering of 15,000 expected to include former pupils from throughout the country.
Charlotte Roan, 44, told AFP in June, "I would like a lot of people to come." To prove that "it wasn't made up," the Ermineskin Cree Nation member invited the public to her presentation.
Linda McGilvery of the Saddle Lake Cree Nation near Saint Paul, some 200 kilometers east of Edmonton, is among many who think the pope's visit is too little, too late.
"I wouldn't go out of my way to see him," stated the 68-year-old.
To paraphrase one of the priests or nuns: "For me, it's kind of too late, because a lot of the people suffered, and the priests and nuns have now died away."
McGilvery attended one of the institutions for the whole of eight years, from the ages of six to thirteen, of her upbringing.
"Many aspects of my heritage and culture were lost on me during my time in a residential school. What a long time of suffering it is!" telling AFP, she said.
A mass in front of tens of thousands of believers in Edmonton is scheduled for Tuesday, and then Pope Francis will go to the northwest to visit the Lac Sainte Anne, a significant pilgrimage site.
After spending the 27th through the 29th in Quebec City, he'll finish up his journey in Iqaluit, the city with the highest concentration of Inuit in Canada, and meet with ex-residential school pupils there before flying back to Italy.
After John Paul II's three visits to Canada in 1984, 1987, and 2002, Francis is the second pope to visit the country.
About 44% of Canadians identify as Catholic.