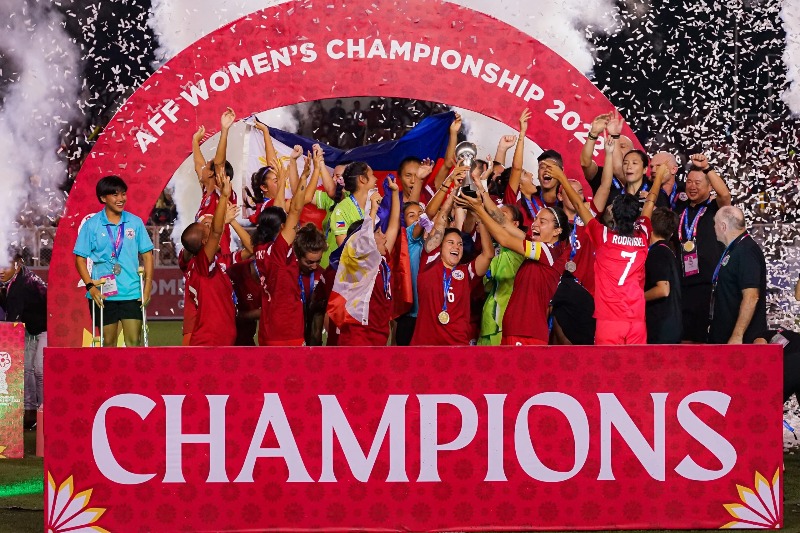 filipinos cheer aff win but focus still on world cup prep
Filipinos cheer AFF win but focus still on World Cup prep
To begin the AFF Women's Championship, the Philippine women's football team set out to achieve two goals: to make the most of home field advantage and to place on the podium for the first time.
Filipinos went further than that, beating Vietnam in the Final Four, and defeating Thailand to capture the historic title for the first time in the tournament's history.
It is only the fourth time in the competition's history that the home nation has won the AFF Women's Championship.
In 2006 and 2012, Vietnam won the title twice, while Myanmar edged Thailand in a shootout in 2007.
Coach Alen Stajcic has a long list of accomplishments under his belt, and this title with the Filipinas ranks towards the top of that list.
Stajcic, on the other hand, argued that the players deserve the credit because they have continued to improve since he took over in October.
"I can't have words to convey how resilient and mentally tough they are," remarked the former Australia tactician after the team's performance after seven games in 14 days.
They are a special group because of the players' hunger and intensity, but Stajcic also talked about their thankfulness and humility.
Related Posts
Stajcic described being with the group as "truly a privilege."
Team captain Tahnai Annis said that capturing the historic title on home turf made it much sweeter.
"When I returned to the Philippines and won the first trophy for women's football for the Philippines, it was a very remarkable experience."
As the team awaits an official FIFA schedule, Stajcic is looking forward to "playing in every FIFA window" after a successful AFF Women's Championship campaign.
Then, in October, Stajcic revealed that the Filipinas could play games in the United States as well, if they choose to.
At some point, we'll have to play on every continent, Stajcic remarked.
It's important for us to obtain experience playing against teams from North America, South America, and Europe.
To prepare for next year's FIFA Women's World Cup, where they'll face world powers like the United States, Sweden, France, Canada, and Spain, Stajcic said seeing teams from other continents is critical.
"As of right now, we're focusing on bringing in as many people from as many various countries as we can, in order to broaden the horizons of this organization."
"We'll be ready for combat. Whoever comes our way when the final World Cup 2023 draw takes place in October, says goalkeeper Olivia McDaniel."

"We want to play the toughest teams because," as McDaniels explained, "you can only become better by playing the tougher teams," therefore "bring it on" it is.