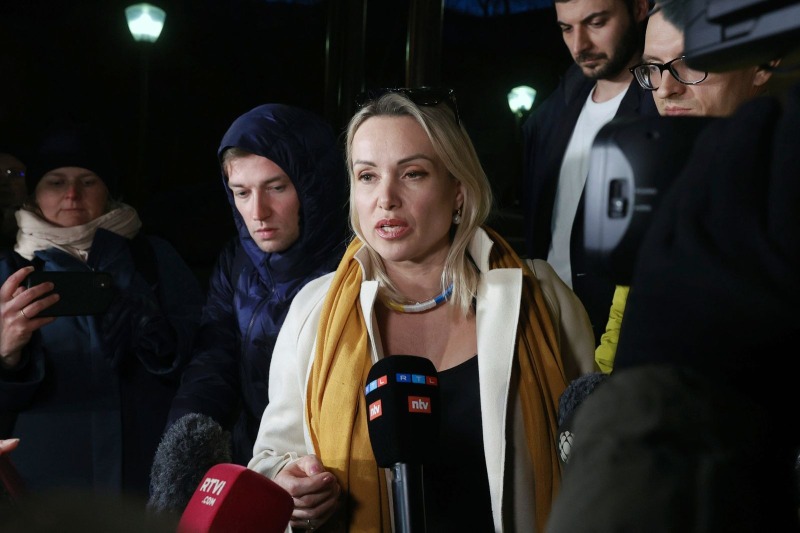 russian tv worker detained after live war protest
Russian TV worker detained after live war protest
Marina Ovsyannikova, a Russian media worker who staged a demonstration against the invasion of Ukraine on live state television in March, was briefly held in Moscow on Sunday (July 18), according to posts on her social media channels. She had staged the protest on public television in March.
A message that was posted on Marina's Telegram channel read, "Marina has been detained," and it was accompanied by photographs of two police officers escorting her towards a white van.
After some time had passed, Ovsyannikova uploaded photos to her Facebook profile that featured both her and her two dogs.
She wrote in her journal that she had "gone for a stroll with the dogs" and that "as soon as I went outside the gate, persons in uniform approached me." The phrase "now I'm sitting at Krasnoselsky ministry of internal affairs" refers to a police station located in the Krasnoselsky neighborhood of Moscow.
After three hours had passed, Ovsyannikova reported that she had been let go. "I'm home. Everything is okay," On her Facebook page, she wrote the following. "However, I have since learned that it is always wise to have luggage and your passport whenever you travel out."
Related Posts
Ovsyannikova shot to popularity in March after she stormed into the studio of Russian state TV, the organization that employed her at the time, to criticize the conflict in Ukraine during a live news broadcast.
After being found guilty of breaking protest laws, she was given a monetary penalty.
Her imprisonment for a short period on Sunday followed social media posts she made on July 15 in which she was pictured with a poster in which she called Russian President Vladimir Putin a murderer and his soldiers Nazis. The question was posed on the poster: "How many more children must die before you will stop?"
In April, Ovsyannikova was taken on by the German news organization Welt to work as a correspondent. She went back to Russia at the beginning of this month, and she explained on Facebook that she had no choice but to do so because she needed to defend her parental rights in court against her husband.