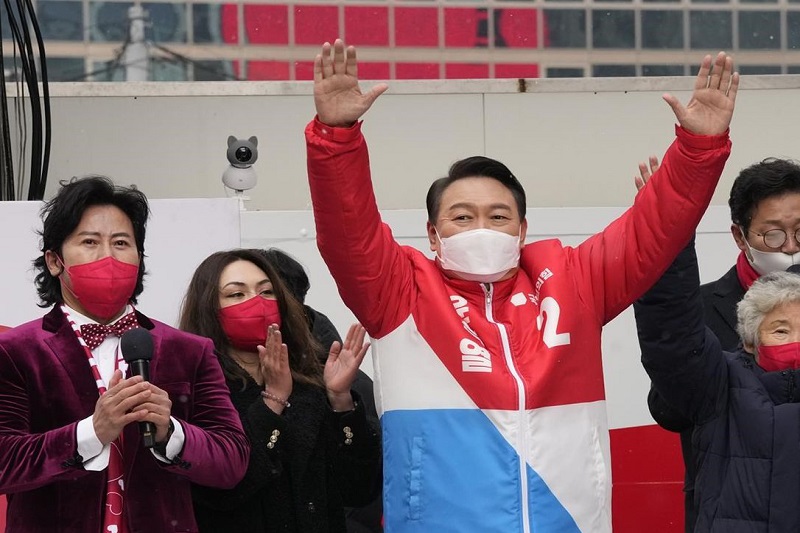 south koreas presidential candidates begin campaigning
South Korea's presidential candidates begin campaigning
South Korea -South Korea's presidential candidates began campaigning on Tuesday.
According to local media outlets, it is the tightest race in two decades between the two rival parties.
The polls are set to be held on March 9.
It is pertinent to state that 14 candidates have officially signed up since the registration opened on Sunday.
The flag-bearer of the ruling Democratic Party, Lee Jae-Myung, would be facing off against Yoon Suk-Yeol from the main opposition People Power Party.
The candidates would now rally on streets and take part in ad campaigns in an appeal to voters ahead of the polls.
Preliminary polls suggest that voters are looking for a president who can clean up the polarised political atmosphere, putting an end to corruption and corrupt practises. Polls say that the candidate who can tackle the runaway housing prices and cater to the deepening inequality will ace the polls.
Related Posts
In a field of 14 candidates, Yoon and Lee are the frontrunners, with the opinion polls giving Yoon a minor lead.
However, policy issues have been overshadowed by petty controversies and scandals, ranging from accusations of abuse of power to spats over candidates' personal relationships.
Due to high disapproval ratings and ugly campaigns waged by both sides, the polls have been dubbed "unlikeable elections."
"This is the foggiest election that we've seen in a while. It is very rare that a winner has yet to emerge three weeks before the poll," a political analyst, Bae Jong-chan, said.
Lee, the former governor of Gyeonggi province, rose to prominence through his handling of the COVID-19 pandemic and his advocacy of universal basic income.
It must be kept in mind that Yoon is a political novice and has gained popularity due to his image of a staunch prosecutor-general, steering high-profile investigations. He probed corruption scandals engulfing political aides to current President Moon Jae-in and former President Park Geun-Hye.